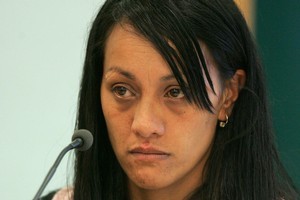 Once she was described as the nation's most hated mother. Now, a teary Macsyna King has described the days leading up to the death of her twin boys and her shock at learning of their injuries.
Aged just three months, Chris and Cru Kahui died at Starship Hospital on June 18, 2006, from serious head injuries.
Doctors told their mum that if she had got the boys to hospital earlier they would have survived, but needed ongoing 24-hour care.
"They would have needed assistance all the way through," she recalled. "And I just lost it."
Her account of the injuries to her sons, their deaths and the criminal inquiry afterward - in which police said the family closed ranks to protect the boys' killer - are from interview recordings by the author of a new book, Ian Wishart. They have been provided exclusively to the Herald on Sunday.
The boys' father, Chris Kahui, was charged with their murders. Two years later on May 22, 2008, after a six-week trial, a jury found him not guilty.
He now has a new partner, and a new daughter.
"Chris Kahui maintains and has always maintained he didn't do it and he doesn't know who did," his lawyer Michele Wilkinson-Smith said yesterday.
Her client had not read the book and she was unsure if he would.
Wilkinson-Smith said Kahui didn't notice any injuries to the twins, prior to their deaths, aside from some bruising to their faces that he thought was caused by his older son, 1-year-old Shane.
In the recordings, King recounts how the twins had been admitted to Middlemore Hospital with bronchial coughing. It was just a few days before they would receive the injuries that killed them.
But neither King nor the hospital staff noticed any bruises.
On June 12, Cru briefly stopped breathing while in his father's care, but his father decided he didn't need to go to hospital.
Then, the next day, the boys were seriously injured in their Mangere home. King and Kahui took them to the doctor who ordered hospitalisation.
At Middlemore, doctors revealed Cru had a two-week old bruise on the left side of his head and bruising on his cheek and brain damage. Little Chris had a skull fracture on the side of his head and a broken femur.
King quizzed her partner about the historic injuries, but was dubious about his suggestion that they might have been caused by their 1-year-old toddler Shane jumping up and down around the twins.
"Even if Shane did jump up on the couch - not going to happen man, not going to happen," she said in the recording. "I remember saying to him, you'd better not be saying that our son did this cos that's bullshit. He's not one of these kids, he's a happy kid, a bonny kid."
The final part of a three-stage coroner's inquest into the twins' death finished this week.
Breaking Silence: the Kahui Case is out next month. The only confirmed supplier is the publisher's website howlingatthemoon.com