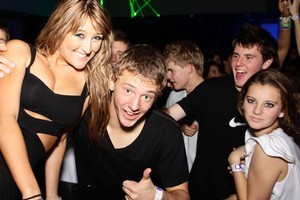 Forget hipflasks and fake IDs - doormen are confiscating Ecstasy tablets and bags of powder at this year's school afterballs.
Functions such as last weekend's Glendowie College party in Ellerslie start as much as two hours after the official school ball ends, allowing students to squeeze in one more party - which they have dubbed the "pre-afterball" and sometimes treat as an opportunity to drink heavily.
Manager of Club 519 Cecelia Chan said small bags of blue and pink powder were found on students entering the Glendowie College afterball last Saturday night and two grossly inebriated teenage girls were carried out of the venue and passed on to St John Ambulance.
"One girl was obviously on drugs," Chan said. "For kids that young, it's shocking."
A drunk Ellerslie girl, brought out on her father's shoulder with a St John ambulance officer in attendance, had "taken something else," her father was heard telling the paramedic.
But a friend of the girl, David Han, insisted she had not taken any illegal drugs and the father's comments had been misinterpreted.
"The Ellerslie girl is a close friend of mine and she had drunk too much at a pre-afterball," he said. "She had been grossly inebriated as stated and after not feeling well and clearly not in the best of mindsets, St John staff helped her and we [the friends] called her parents to pick her up. At no point during the night did she ingest any other substance other than alcohol."
The afterball's organiser, Cade Pellett from events company Afterglo, said his security staff had foiled a drug dealing operation at another afterball, for Northcote College, after a parent overheard two students talking about it in the toilets. A partygoer was found with 12 Ecstasy pills on him.
Fake IDs, alcohol and drugs were confiscated "almost on a regular basis", Pellett said.
"All I can say is we can't be in control of it, but we can be in control of the events," he explained. "That's when you have safety nets such as St John on site, so if anything does happen there's help there."
Pellett is behind an emerging brand of legal nightclub-style events for teens. He said his parties were legal, supported by the police and based on the idea that if teenagers were having fun, the parties would be safe. Pellett said he made $500 to $1000 on the larger afterballs, but struggled to break even on others.
Eighteen-year-olds were able to buy drinks from a restricted bar area, but the parties were otherwise alcohol-free.
"We want to be the solution to the problem, to the perceived problem," he said. "Everything comes down to entertainment. As long as they're not bored they're not going to be destructive or violent. It also comes down to security. We have a lot of safety barriers in place."
Last week's afterball featured scantily clad stage dancers from Fineline Promotions, which Pellett said added to the fun.
"They were fabulous, they changed the whole atmosphere of the room and it was a great photo opportunity for the guys. They invoke people to have a great time."
Fineline director Cindi Light, 28, said she hired four models, aged between 18 and 24, for the event.
They were told to avoid erotic or sexual dancing, to interact with the party-goers but not to hand out their phone numbers. "There's no hooking up allowed," she said. "The crowd seemed to be on a natural high. Women love it - it's semi-inspirational to have girls up there. They're not doing anything they shouldn't be doing."
Auckland Girls' Grammar School, Lynfield College and Rodney College were all scheduled to hold school balls this week, but there were no reports of any afterballs or associated problems.
Glendowie College's ball and afterball were last weekend, and schoolgirls from Diocesan School for Girls posted online saying they would be attending too, after their principal banned them from holding their own afterball.
More than 200 teens arrived in three busloads between 1.30am and 2am - two hours after the school balls finished.
Eden Security staff patted down the students as they entered, and any drugs seized were to be logged in drug boxes and handed over to police.
AFTERBALL PARTY-TIME TROUBLES
* May 2010: Students from Pakuranga College paid $55 for tickets to an afterball in a vacant Onehunga warehouse, but police and liquor licensing inspectors raided it and a van-load of alcohol was removed.
* September 2009: Police prosecute an events management company for allegedly supplying alcohol to minors at school afterballs. Rangitoto College cancels future balls because a Year 12 after-ball went ahead, despite students and parents promising it wouldn't.
* August 2009: Professional cage dancers were hired for a parent-supervised function held after Auckland Grammar School's ball. The dancers were dressed in "leotard-ish" things, said one parent.
* June 2009: Kamo High School afterball in Whangarei erupts into a violent brawl, with several stabbed. Police called to break up a pre-arranged fight following the Howick College after-ball.
* March 2009: Rumours of a 'vomit room' at Wakatipu High School's afterball concern Queenstown parents.
* September 2008: Teenager stabbed at party following the Westland High School ball in Hokitika.
* September 2007: Police voice concerns after Massey High School afterball is hosted by a gang.
* June 2005: A teenager is critically injured in a street brawl on his way to an afterball party organised by parents of Auckland Girls' Grammar students. Hundreds of students turned up at the private party in an old factory in Grey Lynn.
* August 2003: Westlake Girls afterball, to be held at Head Hunters gang headquarters, cancelled.
- additional reporting Andre Hueber