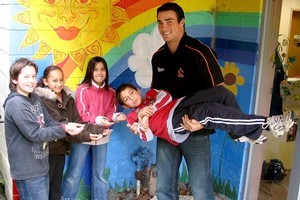 The family of a Hamilton boy who was struck by a car on his way to school are maintaining their bedside vigil and believe he can recover from his injuries.
Shaun Malthus was walking to school on Thursday morning with a friend when he mistimed his run across Ruakura Rd and was struck by a car in an 80km/h zone.
The 13-year-old hit the car's windscreen before landing on the road.
He suffered critical injuries and yesterday was in Waikato Hospital's intensive care unit surrounded by his whanau, who are keeping a round-the-clock vigil.
Shaun's aunt Karyn Malthus said the whanau were grateful for the support of family, friends and the Hamilton Boys' High School community.
Ms Malthus said her nephew was a very clever and witty boy and had a humorous nature that was mature beyond his years.
"He is a talented guitar player who recently appeared in the school concert.
He also enjoys soccer, which he started this year," she said.
"Shaun is a fit young man and we know he can draw on those reserves. The family remain positive he will recover from this."
Ms Malthus said the family wanted to thank everyone who helped Shaun from the time of the accident on Thursday, when a woman covered him with a blanket and others comforted him, through to the staff in intensive care at Waikato Hospital.
"We know he's in good hands."
She said the family were also thinking of the driver, a 17-year-old Hamilton labourer, whose brakes locked as he tried to stop his vehicle from colliding with Shaun.
"The driver's family have been in touch and we will remain in contact with them and our thoughts are with the young man as he deals with this as well," said Ms Malthus.
Hamilton Boys' High principal Susan Hassall said Shaun was a popular Year 9 student who was doing well in his first year at the school.
"He is a lovely young man, a really delightful boy who was doing extremely well and had settled well."
Ms Hassall said the school's community had rallied round, with its parents' association taking food to Shaun's family members at the hospital.
She said his fellow pupils had taken the news of his accident particularly hard and a prayer was said for him at an assembly on Thursday.
"They are clearly upset, as you could imagine. They wrote a lovely card for him this morning which I was able to take up to him.
"They are feeling a sense of grief about his accident but they are hopeful too. They are young and they understand he is young and fitness is on his side."
Shaun was understood to have been walking to school with a friend at the time of the accident but Ms Hassall was not sure if the boy was a student at the school.
The accident was the latest in a bad run for pedestrians in Hamilton and the Waikato.
Two elderly women have been killed in separate incidents this year and an elderly couple were hit by a truck in Cambridge, suffering moderate to serious injuries.