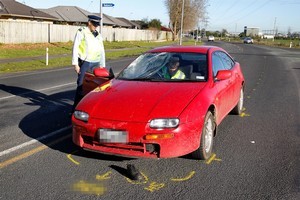 A driver who hit a 13-year-old and left him fighting for his life in Hamilton yesterday has been offered support by the boy's family.

Shaun Malthus was walking to school with a friend on Ruakura Rd outside the entrance to Innovation Park in Hamilton when he was struck by a car travelling east in an 80km/h zone yesterday.
The 17-year-old driver locked his brakes as he tried unsuccessfully to stop before hitting the boy.
The impact knocked Shaun off his feet. He hit the car's windscreen, shattering it, then bounced off it on to the road.
The Year 9 student is still in a critical condition in Waikato Hospital's intensive care unit surrounded by his family.
Police this afternoon said the serious crash unit was carrying out an investigation into the collision and charges could still be laid in the coming months.
Aunt and family spokesperson Karyn Malthus has paid tribute to Shaun as a clever, witty and funny boy who is mature beyond his years.
She commended the hospital staff, family and friends who had come to support the family since the accident.
Shaun is a strong young man and family were confident he would survive, she said.
"We know he can draw on those reserves. The family remains positive he will recover from this.
"We know he's in good hands."
Ms Malthus said the family were also thinking of the 17-year-old driver who hit Shaun.
His family had been in touch and planned to remain in contact, she said.
"Our thoughts are with the young man as he deals with this as well."
Sergeant Phil Ruddell of the Hamilton strategic traffic unit said the road was particularly busy at the time of the accident - about 8.15am - and he was seeking witnesses.
He said Shaun's family had been taken to the crash scene before he was shifted to the hospital.
"At this point, indications are the boy may have been following a friend who had already run across the road, when he was struck by the car travelling east in the 80km/h speed zone."
Police had spoken to the 17-year-old driver, and it was unlikely charges would be laid, Mr Ruddell said.
"This seems more an error of judgement on the pedestrian's part with the distance and speed of cars and how fast they can cover ground."
However, Waikato police spokesman Andrew McAlley said the accident was still under investigation by the serious crash unit.
Charges could be laid after the investigation, he said.
"The timeline of that could be months. We've got twice the number of road fatalities than the rest of the couuntry and we've got to clear those first."
The accident continues a horror run for pedestrians in Hamilton. Two elderly women died in separate incidents, and an elderly Cambridge couple suffered moderate to serious injuries after they were knocked off their feet by a passing truck while crossing a road last week.

Mr Ruddell said police wanted to highlight the importance of having a second look before stepping out in front of traffic.
"That moment's caution can mean all the difference between a normal day and tragedy," Mr Ruddell said.
"It is a timely reminder for people crossing the road, especially in an 80km/h or 100km/h zone, that vehicles are travelling very quickly and to give themselves extra leeway when they decide to cross."
- HERALD ONLINE