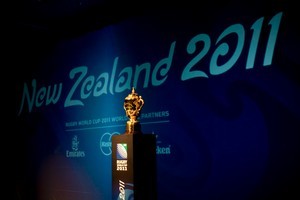 New Zealanders are being encouraged to fly the flag during the Rugby World Cup - not only for the All Blacks, but for all visiting teams.
As part of the warm-up to the tournament, the Government website nz2011.govt.nz is encouraging home owners, streets, workplaces or communities to decorate their area with flag buntings - a 10m string of the various nations' flags.
"It's really signifying we want you guys to come here, and we are glad you are, and we just want to make it the best for you," said New Zealand 2011 spokeswoman Anna Thomson.
It was an easy way for people, businesses and councils to get involved without having to spend too much money, she said.
In its quarterly review, Local Government New Zealand is also encouraging councils to "help facilitate the festival-like atmosphere that is expected to sweep the country".
"Regardless of the results on the field, the success of the tournament is going to come down to the positive experiences international visitors take away from their time in New Zealand," president Lawrence Yule said.
The New Zealand 2011 website also said people should consider adopting a second country "even if it's just by welcoming them in their own language or singing their national anthem".
While most people would pick New Zealand as their team they should also make other teams and their supporters feel welcome, Ms Thomson said.
"When international visitors come here, because there are so many coming, we want them to leave as ambassadors."
Rugby New Zealand 2011 said the 20 participating teams would be officially welcomed at marae and civic events from September 1.
The welcomes would involve capping ceremonies in which each team member would receive a commemorative cap marking their participation in the tournament.