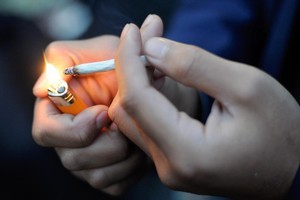 The Ministry of Health is rechecking the safety of a controversial and widely used quit-smoking medicine after a new clinical trial reported an increased rate of heart-related problems.
When Champix gained state funding last November, it was estimated up to 8000 smokers a year would use it.
The drug, whose active ingredient is varenicline, is being reviewed by the United States Food and Drug Administration (FDA) and Health Canada to assess whether it increases heart attacks, strokes and other cardiovascular events.
The Canadian Government agency said this week there might be a "slightly increased risk of heart-related side-effects" in Champix patients with cardiovascular disease.
It cited FDA review findings from a clinical trial of 700 smokers with cardiovascular disease.
"The risk for patients with cardiovascular disease taking Champix was found to be 2 per cent, compared to 1 per cent for those taking no drug," Health Canada said.
"Heart-related side-effects have occurred rarely in clinical trials for Champix. Reports have included chest pain, irregular heartbeat, heart attack and stroke."
Next week, the Canadian Medical Association Journal will publish findings on Champix and cardiovascular events, based on a review of 14 trials involving 8200 patients.
The New Zealand Ministry of Health said its medicine regulator, Medsafe, was evaluating information on Champix from the FDA and Health Canada to decide whether any action was needed.
Medsafe's principal clinical adviser, Enver Yousef, said the new study cited by Health Canada had found heart attacks were more common in patients on the drug than in those taking a placebo, although the result did not reach statistical significance and the clinical relevance was unknown.
"The FDA has asked the manufacturer [Pfizer] to provide further data to aid its review; Medsafe has also requested a copy of these data."
Dr Yousef said smoking itself was a major risk factor for cardiovascular disease, so people taking Champix were at greater risk of these conditions than the general population.
Patients on Champix should continue to use it as the benefits outweighed the risks, Dr Yousef said.
This is not the first time concerns have been raised about Champix. In 2009, two years after the tablets were introduced to New Zealand, the Intensive Medicines Monitoring Programme at Otago University said in a notice to prescribers: "Psychiatric reactions have emerged as a potential safety issue with varenicline and patients should be advised accordingly."
Several people taking the tablets had experienced depression for the first time and in the majority of cases the medicine was considered the likely cause, the notice said.
When Pharmac announced last year that it had agreed to fund Champix, it said its clinical advisers had initially been concerned about doing so because of its safety profile.
Its concerns were in part allayed by the drug's placement on the intensive monitoring programme. Pharmac also required potential patients to try at least one other state-funded quit-smoking product before Champix, which is funded only if the user is on a comprehensive smoking-cessation programme.
SAFETY RE-EVALUATED
* Clinical trial of 700 smokers with cardiovascular disease found slight increase in heart-related side-effects among users.
* Health Ministry in NZ estimates 8000 smokers will use Champix a year.
* NZ officials now rechecking safety.