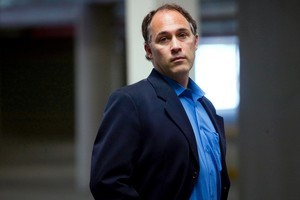 Aucklanders will be able to stroll into their local library and borrow a copy of the controversial Macsyna King book but Wellingtonians may have to wait.
Ian Wishart's latest book has attracted outrage in some quarters, with more than 41,000 people signing up to a "Boycott the Macsyna King Book" page on the social networking website Facebook.
Auckland Council Libraries was the only organisation contacted by the Herald yesterday that confirmed it would be stocking Breaking Silence: The Kahui Case.
Libraries manager Allison Dobbie said the organisation upheld the principles of the Library Information Association, which stated that "information and resources should not be excluded because of the opinions expressed, who the author is, or on the grounds of political, social, moral or other views of the author".
Wellington City Council libraries will wait until the book is released.
Council spokesman Richard MacLean said no one was "particularly excited" about it and only a couple of requests had been received.
"We'll check to see how public opinion is going and all that and we're in no hurry to make a decision."
The University of Auckland is also undecided but a spokesman said the decision on which books to buy was always made "entirely on merit and academic relevance".
"We would not boycott a book simply because it was controversial or might offend some people."
Yesterday, a juror in Chris Kahui's 2008 High Court murder trial said the book was an "absolute mockery". He told 3News he expected charges to be laid against Ms King.
"She is the mother of those children. Those children were in her care."
Mr Kahui's lawyer Michele Wilkinson-Smith said her client would not be commenting on the book and had no part in it.
Wishart fronted up to nzherald.co.nz readers yesterday in a live online question-and-answer session. He said he could understand the anger but that it was misplaced.
"There are tens of thousands of Macsynas out there and we need to reach them, and show others how to reach them. We won't break the cycle unless we learn the early symptoms."
He said the boycott would affect him financially but there would be a larger impact on the book chains.
"I'd be an idiot if I said I was rolling in clover and drinking milk and honey over this."