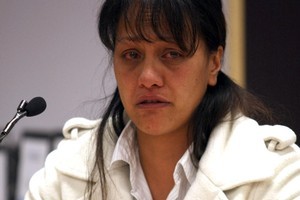 Bookshop owners have every right to decide what will and will not appear on their shelves. Every day, they evaluate books in a variety of ways. Some place a strong emphasis on literary and production values when selecting what they will stock. Others, more in the mainstream, have a greater interest in identifying what will sell. All will occasionally reject a book they find distasteful or offensive, knowing the vast majority of their customers will feel exactly the same way. That is their prerogative.
There would have been no problem if the Paper Plus group and The Warehouse had said they would not sell a book by Macsyna King, the mother of murdered babies Chris and Cru Kahui, when its release was announced. The case still provokes anger throughout New Zealand, and many people were bound to be offended by it. There is a problem, however, when bookshops make their decision because of a public outcry, including threats to boycott any shop that sells the book.
The Warehouse's general manager of merchandise has confirmed this was the motive for his company. "We have received significant comment from our customers," Nick Tuck said. "Overwhelmingly, they have told us that they do not wish to buy it or see it on the shelves." That was akin to announcing that any book was vulnerable if enough people signed up to a Facebook campaign or protested outside The Warehouse's shops.
Paper Plus painted its decision more cogently, saying its stores "do not feel comfortable selling this book and our customers do not want to buy it".
Either way, both booksellers had at least two good reasons to pause before rejecting Breaking Silence: The Kahui Case. First, many of the 40,000 people who have joined the Boycott the Macsyna King Book Facebook page seem to believe Ms King will profit financially from the sale of the book. They are aghast that she might gain a personal advantage from the death of her sons. The book's co-author, Ian Wishart, maintains, however, that she will not get a cent of the royalties from it.
Secondly, the backlash has started long before the book has been released. It is not due out until the end of this month. Only then will its merits be able to be fully judged. According to Macsyna King, her version of events will be a "tell-all" book. In Wishart's words, it will make Once Were Warriors look like kindergarten. However fanciful that may be, the book will certainly mean more information about the case is in the public domain. Given the ongoing public outrage, and widespread incomprehension over no one being made accountable for the twins' death, that is surely a point in its favour.
The decision by Paper Plus and The Warehouse is not the "death of free speech", as Wishart has so extravagantly claimed. But booksellers do need to recognise that they are on perilous ground. While they can point to shopkeepers who sold synthetic cannabis brands also bowing to the wrath of their customers, they do not have the justification that the product on their shelves may be dangerous, especially to the health of young people. Probably the biggest danger attached to Macsyna King's book lies in her discrediting herself even further.
Breaking Silence: The Kahui Case was never likely to be a big seller, because of the odium already attached to her. Equally, many booksellers will share the views of many of their customers in considering the book distasteful. They may also be repelled by its promotion in the week of the inquest into the twins' killing.
On any of these grounds, there was good reason to decline to stock it. A stampede of public pressure, however, should not be the arbiter of what does and does not appear on booksellers' shelves.