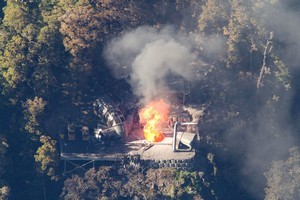 The receivers of Pike River say they do not have enough money to recover the bodies of the 29 men who died inside the West Coast mine.
This comes after recovery teams re-entered the mine on Tuesday for the first time since a series of explosions starting on November 19 killed 29 men, trapping their bodies 2.5 kilometres underground.
One of the receivers, John Fisk of PricewaterhouseCoopers, said today $1 million had be set aside for the operation, which would be enough to take the teams as far as the rockfall 2km inside the mine but not far enough to recover the bodies.
It would be up to the mine's buyers to fund the recovery of the bodies, he told Radio New Zealand.
"We will use our commercially best endeavours to achieve that, but I think everyone recognised...that wasn't something we could insist on at the end of the day, it will be up to the purchaser to reach an agreement," he said.
Engineering, Printing and Manufacturing Union assistant national secretary Ged O'Connell said the receiver's position was not good enough.
The purchaser of the mine would face the risk of an international boycott if there was not a satisfactory recovery plan, he said.
Spokesman for the families, Bernie Monk said they were "never going to go away" and it was in all the parties best interest to "nut out" the problem.
"It's very important that everyone gets together on this."
Meanwhile the Government was exploring whether it was legal to tag the mining licenses with a requirement to recover the bodies.
Greymouth mayor Tony Kokshoorn told NZPA on Tuesday discussions with the Government were progressing well.
"Signs are good at this point that we may be able to tag the licence and the body recovery plan as a package deal," Mr Kokshoorn said.
Statutory mine manager Steve Ellis said yesterday it was hoped work on a temporary seal inside the mine would be finished by tomorrow.
The teams would then withdraw from the mine and monitor its gas levels for about a week.
Eventually a steel door would be installed in the seal at the mine's entrance, he said.
Mr Kokshoorn said re-entering the mine was a "real confidence booster" for Greymouth.
"This is a big step forward, we've been waiting now with the families for seven months and it's been a hard, hard seven months.
- NZPA