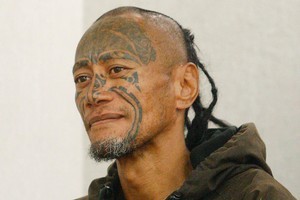 A man who beat his puppy to death with a golf club in what a judge described as a cowardly and brutal attack later wrote a letter to the dead dog apologising for what he had done.
Yesterday, Mathew Awhi George was sentenced in the Te Kuiti District Court to a total of two years and four months in prison after pleading guilty to charges of possession of an offensive weapon, threatening behaviour likely to cause violence and cruelty to animals.
He was also banned for life from owning a dog or having one in his possession.
The charges relate to an incident in March in which George bashed one of his dogs - already malnourished, worm-ridden and with a fractured tibia in its right leg - to death with a golf club after it bit his hand.
A standoff lasting 35 minutes ensued when George yelled obscenities at neighbours and police before threatening the officers with a shovel and an axe. He surrendered when armed police arrived.
George's lawyer, Gaye Gray, said his actions were cruel but "not premeditated".
She said he was extremely remorseful for his actions and did not pursue bail because he thought it inappropriate to do so.
George had also written a letter of apology to the 6-month-old dog, which he had looked on as family.
"That may seem quite unusual, but that dog was his friend."
Ms Gray said George's criminal history included possession of an offensive weapon, assault and threatening behaviour, but his pattern of offending had been broken by his relationship with a local woman.
Judge Rosemary Riddell said George's life had been dysfunctional and punctuated by alcohol and substance abuse.
She said he had a high risk of reoffending and had tried to shift the blame to his neighbours who called the police.
Imposing the jail term, Judge Riddell told George his attack was "cowardly and brutal on a poor, defenceless animal".
"This should deter you from doing this again but it should also deter others."
Outside court, George's partner of 15 years, Lisa Waka, said she did not excuse what he had done. "The sentence is what it is ... It can't be helped."
Ms Waka said she and George had relationship difficulties "like any other couple".
"But we could have sorted it out if he didn't go stupid."
She said their two children, aged 11 and 14, had been subjected to bullying since their father was arrested four months ago. Other children called their dad a murderer.

Te Kuiti SPCA president Sandra Squire said the sentence was pleasing.
"I think that this is the longest sentence handed down for this type of offence, a lifetime ban, and we couldn't have asked for more.
"I think it is a very clear message that has been sent.
"I think the defence's argument was very poor and the magistrate took that into consideration and formed a very good opinion of the facts."
Ms Squire's colleague, SPCA inspector Michell Sanders, said George's defence that he reacted after the dog bit him was no excuse.
"Dogs don't bite unless there is a reason."