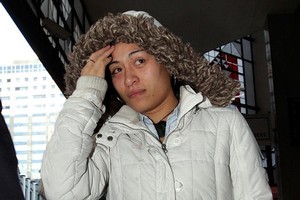 Chris Kahui's sister Mona today told an inquest into the deaths of her twin nephews that she was not part of a family "wall of silence" around the killings.
Three-month-old Chris and Cru Kahui died from head injuries in 2006 and their father was later acquitted of their murder.
Mona Kahui told counsel for her brother, Michele Wilkinson-Smith, that she had not refused to speak to police about the case.
She had told police everything she knew and had not been part of a "wall of silence" allegedly involving other family members.
And she told the inquest she did not have concerns that either of the twins was being abused, and if she had she would have told somebody.
The inquest into the brutal deaths of the twins resumed in Auckland this week after a seven month break.
Ms Kahui told the coroner that their father, Chris Kahui, played video games as the boys were admitted to hospital but later said she wasn't sure whether he had continued to play the games after the phone calls from the hospital.
Mr Kahui was phoned twice by his partner from hospital to be told the boys were injured and in intensive care and seemed stunned by the calls, she said.
Ms Kahui earlier told the inquest she was "freaking out" when the twins stopped breathing, and she had never seen anything like that happen before.
Earlier Ms Kahui broke down in tears as she described what happened during feeding the day before the twins were taken to hospital.
Cru's eyes were rolling back and his lips started going blue, she said.
"I told Chris that Cru had stopped breathing. But he thought I was over-exaggerating," Ms Kahui said.
They did not call an ambulance straight away because Chris had a car and they were only five minutes away from the hospital, Ms Kahui said.
"I thought he meant it would be faster for him to go to the hospital than wait for an ambulance. I thought he would know what to do," she added.
But he did not take them to hospital until the following day.
Mr Kahui seemed like a happy father that night, but he had been bothered by a disagreement with his partner Macsyna King earlier in the evening.
Coroner Garry Evans granted suppression of Ms Kahui's image today, after she told the inquest her children were bullied during her brother's trial for the twins' murder.
Yesterday the inquest was told by one of the country's preeminent experts on child abuse that the child health workforce needs to be transformed so it was also a child protection workforce in order to prevent further cases like that of the Kahui twins.
"The incidence of child abuse in New Zealand is at least as high and in some cases higher than other parts of the world," Dr Patrick Kelly, clinical director of the child protection team at Auckland's Starship Hospital said.
Dr Kelly said it was clear that there needed to be dedicated child protection teams working in every district health board in the country made up of staff from police, Child, Youth and Family, and the primary health sector. At the moment there were only teams in Auckland, Canterbury and Waikato.
Macsyna King's former partner Eru Tuari will give evidence at the inquest tomorrow.
Off the books
Meanwhile, at least two major retailers have decided to boycott a book written in collaboration with the mother of the murdered Kahui twins.
The Warehouse and Paper Plus this afternoon confirmed they will not stock 'Breaking Silence' by Ian Wishart.
Whitcoulls planned to make an announcement on the title tomorrow.
About 26,000 people have signed up to a Facebook group opposing the book, which gives Macsyna King's account of the circumstances surrounding the murder of her sons.
The Warehouse merchandise manager Nick Tuck said the company had decided not to stock Breaking Silence in any of its 89 stores or online after receiving "significant" comment from customers.
"Overwhelmingly, they have told us that they do not wish to buy it or see it on the shelves. We have listened to our customers, and The Warehouse has chosen not to stock the book."
Paper Plus CEO Rob Smith said the retailer had decided not to stock the book after receiving a deluge of feedback from customers over the last 24 hours.
He said the amount of concern over the "highly emotive content" in the book was the main reason for not stocking it.
Paper Plus has a strong heritage as a family friendly store and its decisions were always made with the wellbeing of children at the front of their mind, he said.
"The prevailing opinion is that our stores do not feel comfortable selling this book and our customers do not want to buy it. This is certainly not about censorship or Paper Plus taking the moral high ground. We are simply listening to our most important stakeholders and acting in accordance with their feelings."
Mr Wishart today spoke out against the angry outcry over the upcoming book, saying opponents had developed a "lynch mob" mentality.
Many of those opposing 'Breaking Silence' on Facebook had been threatening, he told TVNZ.
"There's an awful lot of hate in there. There's an awful lot of mouthing off. It's like a lynch mob," Mr Wishart said.
"We've got to step back and say 'okay, let's hear what Macsyna has to say'. Let's see what comes out of the book.
"If we sit there and burn books and burn witches and drown people and all the rest of it. Put bullets through their head as they're suggesting on the Facebook page, we're not going to learn anything."
Mr Wishart said he understood the outrage of the people in the group.
But he called for them to read the book before judging its contents.
"She is the first person to admit 'I was the world's worst mother'.
"The book is... very revelatory about how this person became dysfunctional."
Ms King was not getting any money out of the book, Mr Wishart said.
He said he would be collecting profits from sales, but most would go to book stores and he would be left with a "wage on the table".