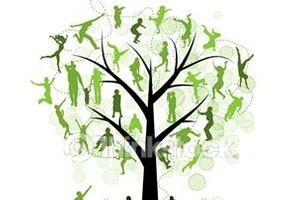 The thrill of seeking family tales and connections is the key for family historian Christine Clement, whether it involves visiting graveyards, delving into historical tomes or hunting through digitised online records.
"Hunting down an elusive record that opens up a whole new line of inquiry is a huge part of this job," says Clement, who has spent 25 years tracking the genealogy of her own family and that of others.
"Some quite ordinary people have the most fascinating family histories; some are descended from right scallywags and others from well-known and important people at the time who are now quite forgotten."
Three years ago, impressed by genealogical website Ancestry.com, Clement approached the American creators about becoming their New Zealand representative.
"It was a chance to make a job out of something I really enjoy and do all the time anyway," she says.
"I also wanted to make sure we were represented properly because our records differ from other countries' in many ways."
Ancestry.com had not listed a job opening but Clement posted off a letter and CV anyway, following up with phone calls and emails. Finally she received a call at her Te Puke home from the United States. A few days later the Australian office called.
"I believe they'd been instructed to get in touch with me because I was driving them nuts."
The site, which launched officially in New Zealand this year, contains nearly 22 million New Zealand records that Clement has helped put online. She continues to digitise New Zealand material, alongside her commissions to write family histories and produce family trees.
Clement has also written nine local history books, with another two on Te Puke and Katikati settlers nearly completed. Two of those books earned her a New Zealand Suffrage Centennial medal in 1993 - Women and the Vote: Extracts from the Hawera Star (1892-1894) and Women of South Taranaki: Their Stories/Nga Wahine Toa O Taranaki Tonga - O Ratou Korero.
The latter was a collection of biographies of women during the women's movement in South Taranaki.
"It included some women who became famous in their later lives and also one man - an honorary woman - who took the suffrage petition around the women of South Taranaki because he knew they wouldn't get time to get into town to do it!"
It is this quirky, more intimate social history that Clement finds particularly fascinating.
She has unearthed surprising connections. Recently a British woman travelled to New Zealand to meet Maori relatives she never knew she had. She made contact with Clement through Ancestry.com when Clement was investigating a family tree for the Maori family involved.
The woman's ancestor was a mining engineer with a wife and child who came here from the English Midlands in the 1860s, found gold in Thames and stayed about 20 years. He had five children to his Maori partner. Clement said the English family had no idea they had relatives in New Zealand.
Clement became interested in genealogy and family history in 1983 on an OE to England, where her parents were born. But her husband's family has provided the most interesting subject matter for historical sleuthing.
"I was lucky to marry a fourth-generation Kiwi; a lovely man of rich historical pickings," she says.
She calls herself a family historian rather than genealogist. "To me genealogy is about lineage. You start with your four grandparents and trace back ... Family history looks into the lives of the people more. You discover an ancestor was the victim of a bigamist, or one family lost seven of their nine children to childhood illness. You find surnames that died out due to only having daughters, or that they lived in the time and neighbourhood of Jack the Ripper in the East End of London."
The internet makes tracing ancestry easier, says Clement. "With Ancestry.com, for example, you can type in the name of an ancestor and find his birth in England, his marriage in Australia and his name on an electoral role here."
With clerical and logistics work experience but no formal tertiary qualification, Clement has turned her passion into a career.
"But it is hard to make a full-time living. I have two professional genealogist friends who work for English genealogy companies helping them trace heirs, but they don't do it full time."
A quick job-search check on the internet brings up a couple of advertisements for heir tracers but none for a genealogist or family historian. Further searches unearth research-librarian roles, particularly at the National Library of New Zealand and Archives New Zealand.
Elizabeth Parkes of New Zealand Genealogy also makes a living out of digging into the past. "Since I was 21 I have had a huge passion to solve mysteries and find the origins of things. It is extremely satisfying."
Based in Nelson, she believes she is the only full-time genealogist in the country with a New Zealand qualification in genealogy.
She completed a diploma course in 1990 through the Genealogical Research Institute of New Zealand, which has since been taken over by the NZ Society of Genealogists. The latter has not been able to continue offering the qualification but is investigating overseas options.
Parkes once worked at the Ministry of Justice, where she gained invaluable knowledge about sourcing records. It occurred to her she could get paid for helping the many people who were approaching her about their genealogies. "I set up a business, joined the Chamber of Commerce and enrolled in the diploma."
Parkes also helps people find their birth parents (once they've got official information from the authorities), and identifies and locates missing beneficiaries for estates, individuals and government departments.
Parkes says although internet access has increased people's interest in their past, it has also created an increase in people needing her services. "People start online, then want to go further but don't know how and so they come to me. The internet is only a starting point - there is still a lot that is unavailable online."
A genealogist needs to think creatively and find a lead for every snippet of information, says Parkes. They also need to continually build on their knowledge of resources.
"You also need to be highly disciplined and an excellent record-keeper because you must provide detailed reports to clients about what you looked at and why."
Family history research sources
The New Zealand Family History Fair