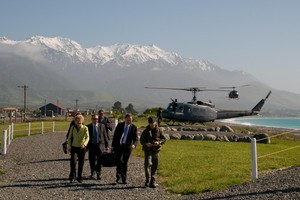 Prime Minister John Key has used Royal NZ Air Force aircraft for VIP travel on average twice as much as Helen Clark for domestic travel, and 54 per cent more for international travel, Defence Force records reveal.
But his use of Boeing 757s, Hercules, King Air aircraft and Iroquois helicopters for domestic travel is only slightly more than Helen Clark's if VIP transport for the Pike River disaster and the Canterbury earthquakes is discounted.
Records released to the Herald under the Official Information Act show Mr Key has used the air force for 292 flying hours since taking office at the end of 2008 until April 22 this year - 148.8 hours domestically, and 143.2 hours internationally.
On average, he has used the RNZAF for VIP transport for just over five hours a month for domestic travel, and just under five hours a month for overseas travel. This far exceeds Helen Clark's use of RNZAF aircraft from 2000 to the end of her term in 2008.
She averaged 2.58 flying hours a month of domestic travel, and 3.2 hours a month of international travel.
Mr Key was heavily criticised in April for using an Iroquois helicopter to get from Auckland to the V8 Supercar races in Hamilton and back in time for a golf club dinner - 5.9 hours of flying in total.
His office justified the use of the helicopter, saying heavy traffic that could have delayed Mr Key, and it would have been against protocol for him arrive at the function later than the Governor-General.
Records show that Mr Key's use of the air force increased substantially in response to the Pike River mine disaster and the Canterbury earthquakes.
Deducting the hours related to these disasters brings Mr Key's average down to 2.77 hours a month, only slightly higher than Helen Clark's monthly average.
Mr Key used a King Air B200 to get to Pike River on November 20, a day after the first explosion in the mine in which 29 men died.
He flew back two days later, having returned to Wellington to support the National Party for the Mana byelection on November 21.
Mr Key chalked up 56.9 hours during 19 trips to, from and around Christchurch to inspect the earthquake damage. Included in this were two Iroquois flights in the two days after the February 22 earthquake, and two more in March.
Labour MP David Shearer, who has grilled ministers in the debating chamber over the use of RNZAF aircraft, said ministers should be using commercial flights where possible.
"We need to be using the air force for what the air force is there for, and not for simply ferrying politicians from one place to another.
"Commercial aircraft are available and are a lot cheaper. John Key is partial to using the helicopters to be flown to events that can easily be reached by commercial aircraft."
He said he had been trying to get an explanation for the use and costs for some VIP Air Force flights.
"I've got an Official Information Act request from March, I complained to the Ombudsman in April. They simply won't give me information.
"Why is information being withheld? The only conclusion you can draw is that the air force aircraft is being used inappropriately."
A spokesman for Mr Key said many factors were taken into account when air force transport was used.
"When we use the air force, in many cases it's because that's the only logistical option we have that fits with the timing requirements of the Prime Minister's schedule.
"Factors that are taken into consideration include flight scheduling, programme demands, flexibility, and ... whether other leaders need transportation [which we do for the Pacific Forum] and whether a business delegation is accompanying the Prime Minister on a visit."