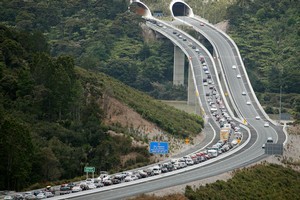 Motorists who pay the Northern Gateway toll by kiosk or phone face new administration charges as it seeks to recoup the costs of some of its payment methods.
The agency is finalising the fees, expected to be about 40c for kiosk payments and possibly $3 for phone transactions - on top of standard tolls of $2 for cars and $4 for trucks.
The fees and tolls will stay unchanged for people with pre-paid accounts and those who pay online.
The agency is also declaring war on recidivist toll evaders - including one who owed $1045.40c at the end of last year - with an intention of starting court proceedings soon.
Its latest report shows 51,461 motorists owed a total of $513,122 at the start of the year, of which $358,000 was overdue, and that it had written off 106,266 toll payment notices amounting to $537,134.
The agency has relied on payment notices and debt collectors to achieve a toll recovery rate of 96 per cent, but has stopped short of court action.
In the first two years since the $356 million road opened in January 2009, it netted $11.4 million after operating costs and GST towards repayments on a 35-year loan of $159 million.
Northern director Stephen Town said he expected the Transport Agency to introduce the new administration fees within two months, after an advertising drive to persuade motorists to pay their tolls online or set up pre-paid accounts.
Those paying by phone can expect the heftiest administration fees, after a disclosure by the agency it spends $3.85c collecting each $2 toll that way.
Extra charges for those paying at kiosks will be substantially lower, as the agency spends just 54c on each toll collection, compared with 13c for online transactions and 30c for trips by pre-paid account holders.
Mr Town said the agency was considering setting administration fees around the difference between the 13c and the extra costs of collecting tolls through kiosks or by phone. He said he hoped motorists would move to pre-paid accounts.
"The pre-paid account is the no-fuss system of very low ongoing transaction costs, so once you've set your account up and you've set up a way to top it up, both parties can relax a bit," Mr Town said.
"You don't have to worry whether you've got your pre-paid trip because you have got your account, and we know toll payment consistency will be really high."
Automobile Association spokesman Simon Lambourne accepted the agency had to cover its costs, but said the AA was "slightly uneasy" about administration fees for the thousands of motorists who still used the kiosks as a cost-effective payment avenue.
Although 53 per cent of road users have pre-paid accounts, more than half of the rest still stop at kiosks.
Mr Town said the agency was looking at providing extra cash payment options "that don't necessarily rely on people lining up at kiosks."
TOLL SHOCK
Possible new toll administration charges:
* Paying at kiosks - 40c plus toll.
* By phone - $3 plus toll.
* Online - toll only.
* Pre-paid account - toll only.
* Overdue debt at December 31 - $895,000.
BIG DEBTORS
* More than $100 owed - 214 vehicle owners.
* More than $200 owed - 197.
* More than $300 owed - 17.
* Highest debt - $1045.40c.