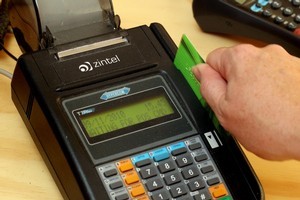 Aussies are dumping the venerable Eftpos for more modern systems, but it seems likely to stay in New Zealand.
Eftpos could be a thing of the past in Australia in a few years as shoppers turn more to debit and credit cards to make cashless transactions, and shop online.
But a New Zealand banking expert says the worries are probably overstated and believes it is unlikely the technology will be ditched soon.
Australian experts are predicting the death of the system as shoppers turn to debit and credit cards.
Australian banking experts said the explosion in online shopping meant Eftpos - which accounts for 85 per cent of all debit payments there but is not available online - could be bound for the scrapheap within years.
It said there had been a surge in the uptake of credit cards, with Reserve Bank figures showing Mastercard and Visa transactions had grown faster than Eftpos in the past three months.
Eftpos needed updating to compete with other forms of payment which are accepted online, over the phone and overseas - a drawcard as more shoppers migrate to the internet.
Dr David Tripe, director of Massey University's Centre for Banking Studies, said there was concern at how banks were issuing Visa and Mastercard-branded debit cards but any anxiety about the Eftpos system being phased out was overstated.
Debit cards potentially did not need the Eftpos system to work but they operated the same way as Eftpos. He said people were still going to go to shops in person.