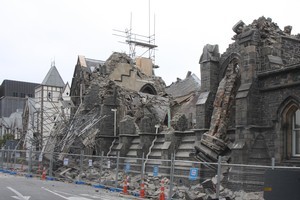 Rates could rise across New Zealand as councils deal with increased insurance bills in the wake of the Christchurch earthquakes, a local government leader claims.
Insurer Civic Assurance has told 46 councils it will not be able to renew their cover after it runs out on June 30.
Its chief executive Tim Sole said the Christchurch earthquakes had imposed massive costs on reinsurers and many were pulling out of New Zealand.
Christchurch and Waimakariri councils would find it almost impossible to get cover after Thursday, while other councils faced increased premiums, he said.
Local Government New Zealand president and Hastings mayor Lawrence Yule today told Radio New Zealand councils were already feeling pressure from the insurance price rises.
His own authority faced a $500,000 hike to its insurance bill, while Dunedin had been hit with a $1 million in extra premiums, he said.
"So it's already having an impact on the operational costs of the councils."
Many local governments will not be able to get the same level of insurance cover for assets including sewerage and stormwater pipes, Mr Yule said.
That would leave taxpayers and ratepayers a significant repair bill if another major disaster struck, he said.
"In many cases the level of insurance that is available for these assets is not the same as it was.
"In underground services in New Zealand there is going to be an amount that is not insured no matter what you pay.
"If a really bad event happened in six months... there are really only two sources of funding. That is local government and central government."
"A lot of local authorities would have well over $500 million in underground assets."
A spokesman for Finance Minister Bill English yesterday said taxpayers and ratepayers would split the bill for repairing any future damage to Christchurch infrastructure left uninsured on Friday.
Government was liable for at least 60 per cent of that bill under the Civil Defence and Emergency Management Act, but could pay more, he said.
"In regard to Christchurch and Waimakiriri, if there is further damage to essential infrastructure it will be repaired - it is just a question of where the balance of costs fall between ratepayers and taxpayers.
"But we've said we'll be mindful of Christchurch's reduced ability to pay. They certainly wouldn't be expected to foot the bill themselves."
Government was working with insurance companies, the Earthquake Commission and local government to find a permanent solution to the insurance issues, he said.