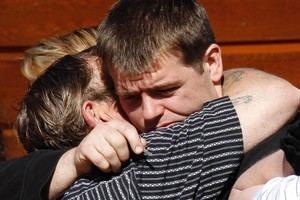 One of the two survivors of the Pike River disaster has returned to coal mining in Australia after feeling a 'need' to go back to the profession he loves.
Daniel Rockhouse lost his brother Ben Rockhouse and 28 other co-workers in the explosion that hit the Pike River mine on November 19.
He was smashed into a wall by the force of the blast and had to recover from carbon monoxide poisoning before walking out of the mine.
His efforts to save fellow mine worker Russell Smith, who he found unconscious in the mine portal, saw him hailed as a hero.
Daniel's father Neville Rockhouse - the former safety and training manager at Pike River - said he was proud of his son for finding new work in a coal mine at Mackay in Queensland.
Despite all he had been through in the disaster, Daniel still felt a love for mining, Mr Rockhouse said.
"He said he needs to go back mining. 'I need to be back underground. I love it'."
Mr Rockhouse said he was not concerned about Daniel's decision.
Coal mining was not dangerous when its risks and hazards were well managed, he said.
"I'm very proud of him that he's done that.
"I just hope it goes well for him over there in Oz. A lot of people have the misconception that mining is a dangerous working environment. It's hazardous. Under normal circumstances we manage the hazards and risks quite adequately. No-one really knows yet what happened at Pike River."
Rescue teams re-enter Pike River mine
Meanwhile a New Zealand Mines Rescue team entered the Pike River mine for the first time since the November 19 explosion at 10am this morning.
Teams of six were set to enter the mine through the sea container and concrete air lock at the mine's entrance, carry out a reconnaissance about 200m inside, and then select the best place to build a temporary air seal.
Grey District Mayor Tony Kokshoorn said he had spoken to a mine rescue worker about 10 minutes before the scheduled re-entry and found weather conditions and gas levels at the mine had "never been better".
Today's operations have helped ease the disappointment of the last seven months waiting to get back into the mine, he said.
"This is a new day. It's a all positive now. It feels like a new start.
"We've broke through now. We're not looking down a hole. We're in the hole."
Mr Kokshoorn said it was possible the mines rescue workers would go further down the mine shaft than initially predicted. He would not elaborate on that claim.
A source close to re-entry team told nzherald.co.nz that once the rescue team had emerged from the mine there would be an incident management team meeting, expected shortly after midday.
The meeting would look at any issues arising from the re-entry and identify the next crew to go into the mine.