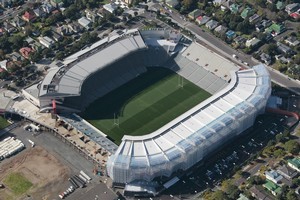 Rugby supporters who have criticised Eden Park's exposure to poor weather during Super Rugby may face more tolerable spring winds during the Rugby World Cup.
Fans have expressed their concern about the stadium's lack of protection from bad weather ahead of the international tournament, where spectators paying $300-$400 will be completely exposed to Auckland's topsy-turvy conditions.
But weather experts noted yesterday that most of the Auckland Blues' season has been dominated by blustery northerlies.
This meant the winter gusts travelled through the most exposed part of the stadium, and pushed rain on to the new South Stand and East Stand - where a large percentage of the crowd sits.
Spring weather is typically erratic. But the prevailing winds come from the southwest, which means that during the World Cup, Eden Park will be more protected by the new, larger southern stand.
Metservice weather ambassador Bob McDavitt said: "For Auckland, south-westerlies are the predominant wind from now right through until December. Sitting in the [South Stand], you get used to watching clouds roll in from left to right.
"It could be as miserable [as June] for the World Cup. But it's unlikely to be. Northerly winds are less likely during September-October. It certainly will be different, and most likely will be better."
Rainy and blustery match days are likely, particularly in the opening rounds in September. Records show September typically has around 17 days of rain, and October is the windiest month of the year. Spring temperatures in Auckland usually range between 9C and 18C.
Mr McDavitt also said that the four grandstands of the stadium can trap wind and create an eddy, or swirling effect.
This not only makes life difficult for goal-kickers, but means the crowd can be buffeted by wind on very gusty days, no matter the wind direction.
Eden Park Trust chief David Kennedy said this week that no international stadium was completely weatherproof, and Eden Park had as much protection as its $240 million upgrade budget allowed.