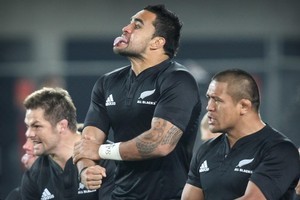 Can't stand the verbal tics or catchphrases of a certain rugby commentator?
Rest easy in the knowledge viewers will be able to choose between five different commentary teams during the Rugby World Cup.
Fans will be spoilt for choice with TVNZ, TV3, Sky TV, Maori TV and its Te Reo channel all broadcasting Rugby World Cup matches called by separate commentary teams.
Sixteen of the key matches will be shown live on free-to-air television, including the two quarter-finals that the All Blacks could qualify for.
Of those 16 matches, eight will be shown simultaneously on TV One, TV3, Maori TV and its Te Reo channel.
The possibility of sharing commentators had been floated, but each network has now confirmed they will use their own talent.
Sky TV is the host broadcaster and will provide the television feed to every licensed Rugby World Cup broadcaster, including the New Zealand free-to-air channels.
All 48 games will be carried live by Sky, and its commentary team includes former All Black Grant Fox, cricketer Ian Smith, Tony Johnston and veteran caller Grant Nisbett.
Former All Blacks Justin Marshall, Stu Wilson, Matthew Cooper, Richard Turner and the colourful Murray Mexted will also feature, although Sky would not confirm in what capacity.
Maori TV will be the lead free-to-air broadcaster and will broadcast all 48 games, although 32 of those will be delayed.
Its Te Reo channel will carry all 48 matches called entirely in Maori by a team headed by the experienced commentator Hemana Waaka.
Matches on Maori TV will be anchored by Te Arahi Maipi, who cut his teeth on several New Zealand Maori matches last year.
Some of the delayed matches will take the commentators on Sky's host feed, and the channel is negotiating to relay coverage from Britain's ITV and South Africa's Super Sport for others.
Brendon Butt, Maori TV's executive RWC producer, said they hoped to differentiate themselves from the other channels by concentrating on atmosphere rather than rugby's technical details.
Despite early concerns about facilities, Mr Butt said he was confident both the Maori TV and Te Reo teams could be accommodated at matches.
"At this stage they seem to be telling us that there's room for all."
TVNZ will carry seven live games, but would not confirm its commentary team. However, veteran broadcaster John McBeth is likely to feature.
TV3 also has seven live games, and has picked its live coverage of the All Blacks clash with France on 24 September as an advantage over rivals TVNZ, which will broadcast it the next day.
TV3 has confirmed former All Blacks Josh Kronfeld and Andrew Mehrtens, stars of the 1995 World Cup, will join Hamish McKay in the commentary box.
The TV team
Sky TV
* Host broadcaster providing television feed to free-to-air channels and internationally.
* All 48 games live and available in High Definition.
* Led by veteran Grant Nisbett and will feature 16 other commentators including Grant Fox, Ian Smith, Tony Johnston and Justin Marshall.
Maori TV
* All 48 games covered.
* 16 live, 32 delayed.
* Key matches anchored by Te Arahi Maipi.
* All 48 games broadcast in Maori on the Te Reo channel.
TVNZ
* 12 matches, with seven of those live.
* Commentary team unconfirmed, likely to feature John McBeth.
TV3
* 12 matches, with seven of those live.
* Former All Blacks Alan Whetton and Andrew Mehrtens understood to be joining Hamish McKay and Jim Kayes.