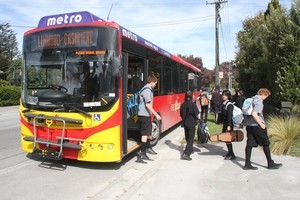 Decisions on the future of the schools in the east of Christchurch will depend on where the people in the city's residential red zone relocate to, the Ministry of Education says.
A number of schools are near the designated residential red zones and may have their school zones affected but only one, St Paul's School in Dallington, is within the area itself.
Education Minister Anne Tolley said decisions on the future of schools will be made "in due course as the longer-term schooling needs of Christchurch become clear". Enrolment zones will also be looked at by the ministry as the city's population changes.
"People will be moving to areas where there are already schools. It might make sense to grow these schools, but we need to make sure there is enough room and successfully house those students. We will look at ways to support schools - not just those losing students, but those schools that are gaining students."
Avonside resident Janet Steel rents a house at the corner of Breezes Road and Avonside Drive - within the Shirley Boys High School zone - and will have to find a new home following last week's announcement.
"My son starts high school next year and he wants to go to Shirley Boys' [High School]. I don't know if I'll find a house in the [school] zone"
However the principal of Shirley Boys' High School, John Laurenson, assured parents that currently live within the school's zone would have their children accepted regardless of where they live next year.
"We're not a school that tries to exclude people, it's more an inclusive institution," Mr Laurenson said.
Parents would just need to prove their previous residence, he said.
Meanwhile parents remain concerned their secondary aged school children's grades will be adversely affected by the ongoing aftershocks, reduced school hours, being displaced from their homes and having to attend other schools at abnormal hours.
Avonside resident Sandra Sinclair has two children who have had to attend different schools because of damage to their high schools.
"I'm really proud of the kids. It's been hard on them trying to have normality," she said. "They've missed out on seven or eight weeks [of school]."
Ms Sinclair's daughter Georgia Crawley, 15, used to go to nearby Avonside Girls High School but now must attend classes at Papanui High School from 1.30pm to 5.30pm.
"It's really hard. It sucks," the Year 11 student said. "We use to say at Avonside 'we hate it so much' - now we just want to go back."
Georgia will also have to go through the disruption of moving from the home she has lived in her whole life.
Her mother is concerned the disruptions will affect her grades.
"Hopefully Georgia does pass this year because there will be nothing worse than having to repeat it."
The New Zealand Qualifications Authority has implemented a number of initiatives to ensure students are not unfairly impacted by the earthquakes, including a separate derived grade process for external assessment, where teachers can provide an estimate of the grade a student would have received under normal circumstances. This grade will only be awarded if there supporting evidence is provided by the school.
NZQA spokesman Lloyd Quartermaine said the authority was in regular contact with schools to ascertain the earthquakes' affects on their students.
"We still believe that the strategies are appropriate, obviously if there are further earthquakes and further disruptions we have to monitor that on an ongoing basis. If more [learning] time is lost and more of the school year is affected we are going to have to work with the schools to see if our strategies and solutions need to be changed at all."