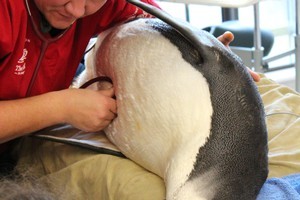 A leading Wellington surgeon has been brought in to help operate on the emperor penguin found more than 3000km from its Antarctic home on a beach north of Wellington.
The bird - nicknamed Happy Feet - was found on the Kapiti Coast early last week.
It was taken to Wellington Zoo for treatment on Friday after vets discovered it had been eating sand.
Vets at the zoo flushed three kilograms of sand out of its system.
Wellington Zoo spokeswoman Kate Baker told NZPA today the penguin was "bright" but remained in a critical condition and would undergo an endoscopy -- involving a camera being inserted down its throat -- late this morning.
Ms Baker said Wellington Hospital gastroenterologist John Wyeth would help with the procedure.
"Although we do endoscopies here, a gastroenterologist has a lot more experience and is also bringing along some specialised equipment," she said.
"What that will mean is hopefully if they do find some driftwood in there, they will be able to pull it out."
There was still thought to be a lot of sand inside the penguin, but the endoscopy would help give vets a better picture of what was going on.
It is not the first time a surgeon has helped out at the zoo. Last year an ear, nose and throat specialist carried out an operation on a chimpanzee.
The penguin was being kept in a cold dark room surrounded by "a lot of shaved ice" and was on an IV drip and being fed a fish slurry, Ms Baker said.
Zoo staff were still waiting for DNA results to determine the bird's sex, she said.
Millionaire businessman Gareth Morgan has offered to take the bird home by giving it a seat on a Russian icebreaker ship in February for an expedition to the Ross Sea in Antarctica.
"Of course until that time Happy Feet will have to be cared for here in Wellington," he said.
The emperor penguin is believed to have swum about 3200km from its Antarctic home to Peka Peka beach, about 60km north of Wellington. The only previous recording of an emperor penguin in New Zealand was at Southland's Oreti Beach in 1967.
Penguins usually eat snow for hydration and to keep cool. Experts believe Happy Feet ate the sand because it was confused about where it was.
- NZPA