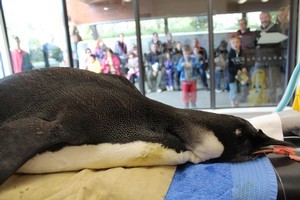 Hundreds of people flocked to Wellington Zoo yesterday to catch a glimpse of the emperor penguin nicknamed Happy Feet.
But last night, the penguin was in critical condition and was being kept in a room with ice and air conditioning.
The spokeswoman for Wellington Zoo, Kate Baker, said although it had picked up a little, it was still in critical condition.
It is thought the penguin ate sand because it mistook it for snow.
An endoscopy procedure will be carried out today which will put a camera into the penguin's stomach to see the amount of sand that needed to be removed.
A gastroenterologist from Wellington Hospital will provide assistance.
Pending a full recovery, economist Gareth Morgan has stepped forward to offer a berth to the penguin on his icebreaker ship scheduled to leave for Antarctica in February.
"My granddaughter was fortunate enough to be visiting Wellington Zoo on that first day when they were operating," he said.
"She saw him and she knows we're going to Antarctica so she said 'Pop, why don't you take Happy Feet too?"'
Morgan said he plans to talk to Wellington Mayor Celia Wade-Brown to discuss the trip.
"Hopefully between her and DoC [Department of Conservation] and the zoo they can consider it seriously.
"We're going all the way down to Scott Base and we've got DoC people on board. I would offer more space if the bird required specific minders."
He wanted to help because he thought it would be the best way to get the penguin home. "It would be absolutely stupid to release the bird and expect it to swim back. Even if we give him time to recuperate, it's an absolute freak, really, that he's got this far north. To expect him to turn around and do it in reverse, that's ridiculous."
One part-time worker at Wellington Zoo said the arrival of the emperor penguin had led to more visitors.
"We had quite a few people through here yesterday because there was a procedure on him at about 11 o'clock," she said. "Lot's of people have been ringing up and asking about it as well."
The penguin arrived at Peka Peka beach on the Kapiti coast last week after swimming 3200km from Antarctica.