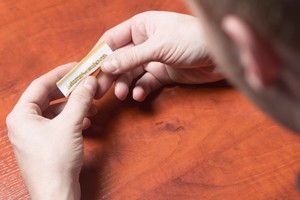 The American inventor of synthetic cannabis warns users to stop immediately or risk serious psychological problems.
"Do not use these products," said Emeritus Professor John Huffman, of South Carolina.
As an organic chemist at Clemson University, Professor Huffman developed the appetite stimulant JWH 018 - a chemical mimicking the effect of THC, the active ingredient in cannabis.
He said he was "not the least bit surprised" that the compound had been adapted to make cannabinoids, such as Kronic, which was widely available throughout New Zealand and Australia.
Asked for his advice to anyone smoking the product, Professor Huffman was unequivocal - "Stop".
"It can lead to serious psychological problems... It's not known if they are irreversible."
Imitation-cannabis products, largely manufactured in China, were marketed in the US as Spice or K2, and producers "wouldn't listen as long as they are making money", he said.
However, Professor Huffman stopped short of recommending NZ ban or even reclassify the product.
"It's probably useless. Marijuana has been illegal in the United States since 1937."
One person supporting a ban is Dr Leo Schep, a toxicologist with the Dunedin-based National Poisons Centre, who said people should take heed of Professor Huffman's warnings over the effects of synthetic cannabis.
"He would know this product better than anyone else in the world.
"If he said don't use it, I would respect that opinion."
Cannabis substitutes were probably created by chemicals such as JWH 018 and "spraying willy nilly".
Dr Schep said the poisons centre was the "ambulance at the bottom of the cliff". It had recorded a spike of 10 calls a month relating to cannabis substitutes, and expected that to rise to 20 this month.
"It is the tip of the iceberg. If we have a jump... that is a good indication something is out there.
Dr Schep has talked to staff at Dunedin Hospital emergency department concerning cannabinoids, including background information and symptoms. Cannabinoids were banned in Western Australia this month.
ED clinical leader Dr Tim Kerruish has said health issues include anxiety, increased heart rates and blood pressure and in one case seizures.
Associate Health Minister Peter Dunne says that restrictions on cannabinoid products such as Kronic could be expected within a week when Parliament passes amendments to the Misuse of Drugs Act 2005.
SYNTHETIC CANNABIS
* John W. Huffman, now a professor emeritus of organic chemistry in the US, synthesised many cannabinoids (such as JWH 18, which is named after him) that mimic THC, the principal active component of cannabis.
* Initial research into cannabinoids aimed to treat nausea and glaucoma and stimulate appetites.
* Two of Professor Huffman's cannabinoids were sold in Germany as K2 and Spice and have since been marketed around the world, including Kronic in New Zealand and Australia.
- OTAGO DAILY TIMES