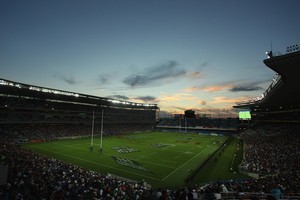 Eden Park is defending its lack of protection for spectators from bad weather and the hotch-potch appearance of the stadium ahead of the Rugby World Cup.
Supporters of Super rugby have criticised the stadium's poor coverage from winter conditions, which they feel dampens the atmosphere for Auckland Blues matches.
World Cup spectators paying up to $358 a seat will be exposed to the worst of Auckland's changeable September and October weather.
Others have suggested Eden Park falls below the standard for a World Cup final venue, and have decried the stadium's mismatched stands and the eyesore of scaffolding that has been installed behind the west stand for temporary seating.
Eden Park management say that bad weather affects nearly every world-class stadium, no matter how covered, and that the home of the tournament was built to the best standard its budget allowed.
Herald on Sunday rugby columnist Gregor Paul wrote yesterday that Eden Park would let New Zealand down.
"At the cost of $240 million, New Zealand has built an utter dog of a stadium and one that will taint the World Cup."
Paul said that if spectators had bad stadium experiences because of poor weather in the group stages, it could affect ticket sales to the knockout rounds.
Some Herald readers echoed his comments, saying that Eden Park lacked the "wow factor" of European stadiums, and that Northern Hemisphere visitors would be shocked by its appearance.
World Cup boss Martin Snedden was unable to comment, but plans this week to write a response to Paul's column.
Mr Snedden has previously predicted that Eden Park will be "one of the surprise packages of the tournament".
Eden Park Trust chief David Kennedy said covered seating for all seats was never possible within the venue's upgrade budget.
On average, Auckland has about 17 days of rain in September and 16 rainy days in October.
During recent Super rugby games, spectators have moved seats to huddle under overhanging roofs or chosen to stand where they can shelter.
After several rain-soaked matches, the Auckland Blues' playoff game on Friday was less than half full.
Mr Kennedy said lower-than-normal attendances were observed in all Super rugby stadiums, and were influenced by other factors such as good accessibility to televised matches.
Asked whether Eden Park lacked the grandeur of previous host stadiums - such as Stade de France in Paris and Millennium Stadium in Cardiff - Mr Kennedy said it was a world-class venue with a striking design in the new three-tier South Stand.
"The scale is relative to ... New Zealand and how it will be used [after the cup].
"Having a stadium of more than 50,000 people is unnecessary because we just won't fill it up," Mr Kennedy said.
Temporary seating arrangements were common in any international tournament, he said, and the scaffolding would be covered by a huge wrap.
Eden Park's upgrade for the tournament included a new 22,000-seat South Stand, a two-tier East Stand replacing the eastern terraces and an extension of the ASB Stand with a 2000-seat lower bowl.
Mr Kennedy said the cost of a greater upgrade would have rankled with the public during a difficult economic period.
"The appetite for giving has passed."