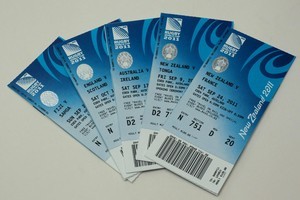 They had the laws changed to ensure it couldn't happen - but tickets to the Rugby World Cup final are for sale online for almost four times their face value.
Kiwis wanting to scalp World Cup tickets face large fines, but the threat doesn't extend to a seller, who claims to be Canadian, touting the tickets on international auction site eBay.
The pair of Category D adult tickets to the final are selling for US$2500 ($3072), almost four times the original value. The same tickets are sold through official channels for $399 each.
The seller, Canada-based and using the name Pandatix, was unrepentant in an email: "Price goes by supply and demand. The price is dictated by the free market of buyers and sellers. I am not forcing anyone to buy these tickets."
The user said the tickets had been purchased but had not yet arrived in the mail.
The eBay auction website has more than 40 Rugby World Cup tickets for sale. Prices ranged from $2 to $3072.
Under the Major Events Management Act, legislation introduced to protect the official sponsors and partners of the Cup, tickets cannot be sold in New Zealand for more than the original price. Those who do face a fine of up to $5000.
However, Ministry of Economic Development senior solicitor Steven Condie said no country could legislate for what happened in other countries.
"If the sale isn't a transaction in New Zealand, then MEMA won't apply."
Rugby World Cup Ltd general manager Ross Young said fans took a big risk buying tickets from non-official sellers. "There is no guarantee they will actually get what they paid for." Tickets could be bogus and even if genuine, the prices are highly inflated.
"We have also repeatedly communicated with the company, eBay. Many other major events have experienced similar problems with eBay and their reluctance to take action is disappointing."
Ebay did not reply to questions.
As the seller is not identified and the tickets can't be seen on screen, and thus seat numbers able to be traced, authorities have their work cut out.
Trade Me said in February it would not allow any Rugby World Cup tickets on its site, even if the sales were legal.
Trade Me head of trust and safety Jon Duffy said the website did not want to do anything that would hurt the event. "If we were going to allow it we would only do it with the blessing of the Rugby World Cup."