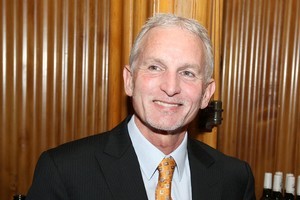 Lock up your daughters, Auckland. Michael Laws is considering a full-time move to the City of Sails and is on the lookout for romance.
The 53-year-old RadioLive presenter says that shifting north from his Wanganui base would be beneficial for his career - and his love life.
But at present, his priority was caring for his three young children Lucy, 6, Zoe, 4, and 2-year-old Theo.
He said: "I am a very, very contented family man, but it's probably time to break-out of that.
"My private life probably needs to be a bit more exciting."
Laws' contract with RadioWorks expires at the end of the year, but he denied suggestions that the station wanted him to relocate to Auckland.
He said he was confident he had a future at the station beyond his present contract.
At present he divides his time between Auckland and Wanganui.
"At the moment I have the best of both worlds - I get to experience the energy, and vibrancy of Auckland, and also a provincial upbringing for my children."
Laws was named Wanganui's most nationally recognisable feature this week, and said he would be prepared to stay there for the sake of his children.
"[Being based in Wanganui] works but you don't have quite the same contact with your peer group and the broadcasting bosses that would be desirable.
"There is a lot of promotional work for the radio up in Auckland. There are certainly more opportunities."
Laws, a Wanganui councillor, added he would consider running for the Auckland Council.
"I like the idea that there is a now one Auckland council.
"The reality is I am 53 years of age, I have an extensive political background, I'm not closing my door on any political future."
Laws split from wife Leonie Brookhammer last year, before starting a brief relationship with Jackie Sperling.