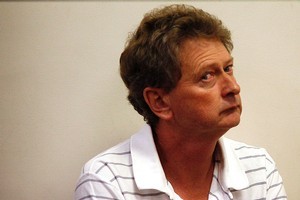 A sex worker has spoken for the first time about her relationship with the ASB Bank investment manager who stole $18 million of clients' money.
The woman has told of how jailed banker Stephen Versalko would visit her for sex as often as twice a week - and see other prostitutes as well.
Versalko was sent to jail for six years after he admitted stealing money from people who believed he was investing it with the ASB Bank, where he worked as an investment advisor.
It emerged that Versalko spent more than $3 million on prostitutes, with the remainder of his stolen money going on fine wine, high living and expensive property in which he lived with his wife Megan and three children.
The ASB Bank took one prostitute to court and won a settlement after challenging $2.4m in payments he made to her.
But it is another prostitute, identified by the Serious Fraud Office as receiving about $900,000, who has spoken of her sexual relationship with him and the accusations she blackmailed him for money.
The revelation comes in an Inside New Zealand docu-drama called The Banker, The Escorts and The $18 Million.
Using the name "Esther" because she would not be identified, the prostitute's role is re-created by an actress who depicts the relationship she had with Versalko, using real quotes.
She said discretion was a key factor for the banker, who she entertained at her home. He would park his car in her home's internal garage.
Esther said he began with fortnightly visits, moved to weekly visits and then increased visits to twice-weekly. "He was seeing other girls as well," she said. Versalko was "likeable" and "charming" and "always paid cash".
"What he has put on his credit card that you know about ... it would only be about 10 per cent of what he's spent. He did say he liked to spend cash because it can't be traced."
She said he would call from the bank when he was working and being "Mr Straight Man". And when he was at her house, he would answer his mobile if the call came from his home.
She said she charged Versalko $150 an hour for visits although increased the charge to $250 an hour as the "kinkiness" of his requests increased.
The length of his visits decreased as time went on. "He just wanted it over and done with." She said at times he would visit for no more than 15 minutes.
Esther was the prostitute who was accused during the court process of attempting to "blackmail" Versalko - a claim she denied.
It stemmed from a payment made by Versalko as the prostitute became enmeshed by a gambling addiction. She was spending up to $3000 a night on slot machines.
In financial strife, she rang Versalko for help. "He used to say to give him a couple of days and he'll sort it. He'll just sell some shares. He was like a knight in shining armour.
"I wasn't bribing him ... and that was what made me so upset. I never gave him any indication ever I would tell his wife - as if I want her on my doorstep."
Esther said the sexual relationship lasted from 2001 until 2005. The pair kept in contact for years after that - even during the time he took another prostitute to Dubai. "I was probably a bit peeved off he didn't take me away," said Esther.
She said she discovered Versalko was a fraudster when reading the Herald on Sunday, which revealed his role. "I was absolutely shocked. I never thought he would do something like that."
She said she wanted to know why he had claimed she had bribed him. "If he was here, I would probably smack him in the face."
* The Banker, The Escorts and The $18 Million screens on Inside New Zealand this Wednesday on TV3 at 8.30pm.