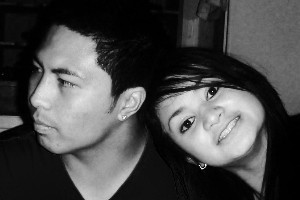 A grieving dad has spoken for the first time of how he desperately tried to dig 17-year-old Hugh Biddle from under a landslide.
Biddle, just three months away from becoming a dad, was buried under 4m of mud and debris when a rain-sodden cliff engulfed their Ohope home.
"He yelled 'help me Koro, help me'. I went and got an axe and put big holes in the door," his foster father Rob Shaw told the Herald on Sunday.
He has spent time over the past week with Biddle's partner Cherize Kutia, sharing their memories of Biddle and his big plans for the future.
Kutia has revealed, for the first time, what she and Biddle planned to name their unborn daughter: Zekaiya Lamour Biddle.
"There's nothing I can do," Kutia said. "I've just got to look after the baby and make sure she's all right." Shaw was this week still struggling to cope with the loss of the teenager he got on with "like a house on fire". Last Saturday morning Shaw was in the kitchen ironing when he saw water and trees going past the window.
"At first I thought it was thunder. The noise was horrendous," he said. He ran to Biddle's bedroom and yelled "are you all right boy?", while trying to open the door. But despite his desperate attempts to cut through the door and the debris behind it, the cries stopped. Less than a minute later, he said, "there was no noise" from the room. "I was beside myself." The water and mud had forced a storage shed and laundry into Hugh's room and the water was up to the ceiling, said Shaw.
He then had an agonising wait while a digger and emergency services searched for Biddle in the mud.
"The whole afternoon I was hoping against hope but it wasn't so. I've gone over and over everything in my mind and think what the hell I could have done differently."
Meanwhile, Kutia, 16, rushed to West End Rd after police told her mum the father of her unborn child had died.
"I just knew as soon as I saw mum's face," she said.
The pair recently found out they were expecting a daughter in September and had named her Zekaiya. Since Biddle's death she has decided to add the middle name "Shaw" as a tribute to his relationship with his foster dad.
Biddle was loving and caring, said Kutia. "He was really handsome and funny as, and really overprotective," she said. "He would have been a great father."
The pair had planned to marry and to move to Australia for work, but she now planned to stay in Taneatua.
Shaw has been hit by tragedy before: In 2004 he lost stepson Greg Boynton-Shaw in a surfing accident in Omaio Bay, near Opotiki, when a storm whipped up huge swells that overwhelmed him and two friends.
When Biddle lost his father five years ago he formed a close relationship with Shaw, who was his old principal at Taneatua School. They both found a new father-son relationship.