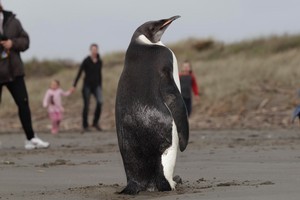 The emperor penguin found more than 3000km from its Antarctic home on the Kapiti Coast this week will next year do what no other penguin can do. Fly home.
Businessman Gareth Morgan has offered a seat to the bird dubbed Happy Feet on a Russian icebreaker ship in February for an "Our Far South" expedition to the Ross Sea.
"Of course until that time Happy Feet will have to be cared for here in Wellington," he said.
The penguin is tonight in a critical condition in a cold room at Wellington Zoo.
Today some sand Happy Feet had eaten had been removed from his stomach, following two procedures at the zoo yesterday, Wellington Zoo spokeswoman Kate Baker said.
"We won't do another procedure on him tomorrow -- he's had two anaesthetics in two days, so after this we will give him a bit of a rest."
An x-ray showed today's procedure only removed about twenty per cent of the sand was removed from the penguin's stomach, and they might do a similar one on Monday, Ms Baker said.
The penguin passed some sand through its digestive system last night and they hoped it would pass more tonight, she said.
Sand from its oesophagus was removed yesterday.
About 75 people watched today's procedure, which was done by Dr Baukje Lenting and Dr Lisa Argilla of Wellington Zoo, and involved putting a tube inside the penguin's stomach and pumping water in.
The emperor penguin swam about 3200km from its Antarctic home to Peka Peka beach, about 60km north of Wellington. The only previous recording of an emperor penguin in New Zealand was at Southland's Oreti Beach in 1967.
Penguins usually ate snow for hydration and to keep cool, and experts believed it had eaten the sand because it was confused about where it was.
- NZPA