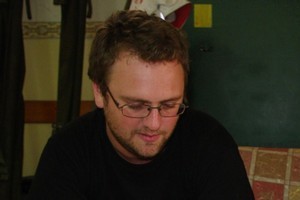 A New Zealand journalist is in jail in strife-torn Yemen.
Glen Johnson, 28, a freelancer who writes from the Middle East's hotspots, was caught by authorities after allegedly entering the country illegally.
A spokesman for the Ministry of Foreign Affairs and Trade in Wellington confirmed last night it knew of his arrest, and said New Zealand Embassy staff in neighbouring Saudi Arabia were working with their British counterparts in Yemen to provide assistance.
The ministry would provide no further details, but Johnson's King Country-based parents last night told the Herald they believed he had not been harmed and was in a jail in the Lahj province.
Mike Johnson, head of physical education at Piopio College, said he and wife Lin were trying not to worry as they had been told second- and third-hand that their son was not being mistreated. He had been in the Middle East for nearly two and a half years and they knew the risks.
Johnson, a Canterbury University journalism graduate, has filed stories for UK magazines from Egypt, the West Bank, Yemen, Syria and Jordan. His latest piece, on the New Zealand UN mission in Khartoum, appears in the Herald on Sunday tomorrow.
Early this year, he was beaten by security forces in the violent protests that rocked Egypt. He was covering the riots that led to President Hosni Mubarak standing down.
He made an earlier trip to Yemen last year, reporting on the high rates of female sexual abuse. He left after authorities gave him 36 hours to get out.
Mike Johnson said his son had left New Zealand soon after graduating. He had been "sympathetic" to the Palestinian struggle against Israel and started his freelancing career in that region because of it.