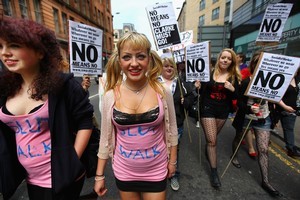 Hundreds of people braved the cold and walked the streets of Wellington and Auckland in a 'SlutWalks' rally today.
The march was part of a worldwide protest against the culture of blaming the victim rather than the rapist for attacks on women.
The global movement originated in Toronto earlier this year when a police officer told students that women should avoid "dressing like sluts if they don't want to be victimised".
Shortly after over 4000 protesters - some dressed in skimpy clothes - marched against placing the blame of sexual assault on the victim.
Dr Kim McGregor, from Rape Prevention Education, said sexual violence happened to babies, children, adolescents, women, and men of every culture, economic status, ability, sexuality -- no matter what they said, how they acted or what they wore.
Telling women what to wear was missing the point. It was the sex offender who committed the crime and who needed to change his or her behaviour.
SlutWalks were about putting responsibility back on to the sex offender and about changing a 'Don't get raped' culture to a 'Don't rape' culture, she said.
The events have attracted some controversy because of the name.
"Whatever the response to the word, SlutWalks are an opportunity to bring together all of those who stand against sexual violence and who challenge the notion that how a women dresses will cause a man to rape her.
"These ideas are harmful and offensive to both women and men," Dr McGregor said .
In New Zealand rape and sexual violence takes a heavy toll with approximately one in four females and one in eight males likely to experience some form of sexual violence, most before the age of 16 years.
- NZPA