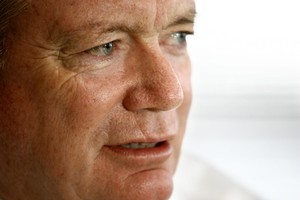 The man who suggested women's monthly periods were among reasons they were less productive and therefore paid less has conceded he showed "bad judgment".
But now Employers and Manufacturers Association (Northern) chief Alasdair Thompson has to face his board to see if he will keep his job after a storm of protest from the public and high-ranking business people and politicians, including former Prime Minister Dame Jenny Shipley.
Mr Thompson caused outrage when he linked women's menstruation with time spent away from work during a radio interview on Thursday. He then clashed with a female television journalist, standing over her and accusing her of lying to him - all while he believed the cameras were not rolling.
The EMA board has called a special meeting for Monday to discuss the growing controversy.
In a written statement yesterday, Mr Thompson said: "I apologise for my poor choice of words and bad judgment during the discussion about gender and productivity."
What began as real concern for problems women face in the workplace soon disintegrated into "facile" observations that did a disservice to a very serious matter, he said.
"I raised issues that were misplaced and irrelevant to the discussion... I realise my remarks offended many people.
"The EMA unquestionably believes in equal pay; both the EMA and I believe gender plays no part in the productivity of a person, and that there's no justification for gender to influence what someone is paid."
Mr Thompson said the last couple of days had been "painful" but had also served as a valuable lesson -"one I shall never forget".
He did not respond to calls from the Weekend Herald.
Figures for sick and domestic leave obtained by the Public Service Association (PSA) show women working in the public service take only 1.6 days a year more than men - 8.4 days on average compared with 6.8.
After his comments, a poll was set up on social networking site Facebook asking: "Should EMA chief Alasdair Thompson be sacked?" Mr Thompson himself answered the question with "no".
Dame Jenny Shipley wrote to Mr Thompson expressing her concern at his statement.
"With the investment employers make in women and men in this day and age, surely the issue is how to retain that talent by salary recognition and workplace flexibility, not your absurd explanation as to why wage differences linger."
EMA board member Laurie Margrain did not return calls after Mr Thompson's apology, but earlier said he expected the board to act "decisively and robustly".
He had already received two calls from major corporate members of the EMA who were opposed to Mr Thompson's comments. He would not name them.
Trade Me founder Sam Morgan joined the growing calls for Mr Thompson's resignation. "Time to go, Mr Thompson. You have a political role and you just lost your constituency," he said on Twitter.
High-profile human rights lawyer Mai Chen last night lambasted Mr Thompson for his comments, saying opinions like his were the reason for the gender and pay gap.
"If you mistakenly think that because a person is a woman and therefore will have periods and will therefore spend time in the bathroom or at home not being able to work because they're so incapacitated - then you may value them less than a male employee and you may pay them less."
Company director Rosanne Meo said CEOs she had spoken to expressed "unanimous shock and embarrassment" at the comments.