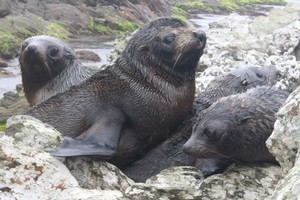 More than six months after 25 seals - including newborn pups - were brutally clubbed to death north of Kaikoura two men have been arrested and charged with the killings.
In late November the bashed and blood-spattered bodies of the seals were found at the Ohau Point seal colony, in what was widely-condemned as a "callous and cowardly attack".
Blenheim police said this morning that two Marlborough men, aged 35 and 19, were arrested yesterday and charged with the killings.
They face one charge each of aggravated cruelty to animals and possession of an offensive weapon.
The Department of Conservation may also lay charges over the killings under the Marine Mammals Protection Act.
It contains penalties of up to six months' jail or fines of up to $250,000 for killing or harming fur seals or other marine mammals.
Other seal bashings:
Tomoare Angoika and Matthew Botica are accused of bashing a one-metre-long fur seal with a boat oar on January 24, before leaving it to float down Henderson Creek. It was later put down due to its injuries.
Harley McKenzie was jailed for four months last year for his role in an attack on a leopard seal in 2008 in which fist-sized stones were thrown at the seal and it was dragged around a beach by its tail. Two other men were fined $5000 and $7000 respectively for their part in the attack.
In July 2010, Hayden John Ingram, 17, of Kaikoura was fined $500 and sentenced to 200 hours' community work for shooting a seal with a paintball gun, bashing it with a metal bar and running over a seal pup, killing both.
In 2005, All Black Andrew Hore and friends Hamish Wilson and Matthew O'Connell were each fined $2500 after they shot at seals, killing one, on the Otago coast.