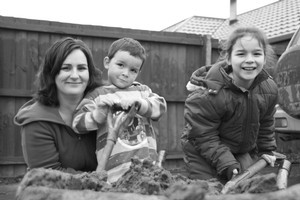 "We're hoping it is going ... but we've got a feeling we're in the 10
per cent of the unlucky ones," joked Bexley resident Bill Evans.
Mr Evans was among a small number - six, he estimated - still living on Waitaki Street after the February 22 earthquake triggered liquefaction, bringing high levels of silt and muck to the surface.
"Three times it has been like this," Mr Evans said about the damage done to Bexley, where the majority of the houses will need to be abandoned.
He and his wife have handed in their jobs and plan to move to Surfers Paradise.
"We've had enough."
A few doors down, Tracey Bolton said the news that her home was in the red zone was no surprise.
"I think it is just reality now. We're going to have to pick up our kids and our home, and find somewhere else to live."
Mrs Bolton said her husband, a drainlayer who has worked long hours in the wake of multiple earthquakes, wants to stay in the house for one last Christmas.
"To grieve, I suppose."
The couple have not yet had an opportunity to discuss whether they would leave soon or try to wait until Christmas. Mrs Bolton expected there would be "a bottle of wine and a few tears" when the chance arrived.
"If we keep having jolly aftershocks the pipes and that can't take much more.
"I think together as a family we are a strong unit. We'll take every day as it comes.
"In nine months' time the house is going to be gone - that's the hardest thing."
Children Cassandra, 9, and Liam, 4, are faced with the prospect of leaving the only home they have ever known. Mrs Bolton said her 12-year-old son would welcome a possible move to the Rawhiti temporary village at New Brighton, where the family has strong ties to the local rugby club.
Mrs Bolton did not criticise the Government for not making an announcement on Christchurch's land sooner. She said it was not a process to be rushed.
"Look at the stuff they've done. No wonder it took so long. I've got nothing bad to say."
Tania Eades was less enthusiastic about what remedies the Government had to offer, and said she didn't want to take any offer of compensation without investigating it further.
"A lot of [affected residents] think this is a rescue package, and a lot of people will jump at the cash. I'll be trying to get a second opinion, and some other reports."
Ms Eades said she didn't want to leave.
"At the end of the day, it's not the individuals' choices. If we have to go, we have to go."
Kim Stanley hoped to have her land paid out.
"Look at the house - it's sunken. In our lounge, you can touch the roof."