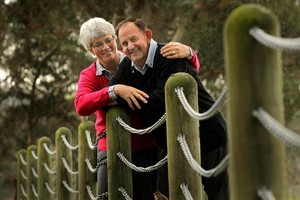 There's never a good time to have a heart attack. But Terry Oppert counts himself lucky his life-threatening episode happened outside an ambulance officer's home.
The 71-year-old was on an early morning bike ride in the rural north Waikato town of Maramarua in January when he went into cardiac arrest just 3km from his home.
By chance, a local postie was one hour early on her daily route and spotted Mr Oppert slumped over his bike, cold and blue, with blood and cuts on his face.
"If she hadn't been an hour early and hadn't happened to pass me on the road, it wouldn't have coincided that everything worked out," said Mr Oppert.
Beryl Oppert said her husband could not be luckier.
"Directly above the bank where Terry had come off lived our local first-response people and the local Maramarua fire brigade," she said.
Marie Holtham, St John first-response leader for Maramarua, was doing the breakfast dishes when she heard the postie's screams for help.
"I got my husband to go down and get the first-response vehicle, I got my mother-in-law to come and look after my kids, and then I went direct down to the scene and started CPR," she said.
A defibrillator was used to restart Mr Oppert's heart, and shortly after, the Westpac rescue helicopter arrived from Auckland.
He was flown to Middlemore Hospital and had two stents put into his artery.
"We're just so lucky in a little rural district having them and having [St John] on the spot," said Mrs Oppert. "Marie in particular is just so dedicated."
Mr Oppert, who has no recollection of the ordeal or the two weeks following, is cycling again, with a new perspective on the work of his Maramarua neighbours.
The Opperts are grateful for the help of St John and urged donors to support the charity in the annual Flash a Light appeal this week.
Mrs Holtham began volunteering for St John as an 11-year-old and is driven by a passion for helping others.
"I think it's important to realise that St John is a charity and so much of our work is volunteer. For us to get new equipment - ambulances and things - we depend on the donations," she said.
St John chief executive Jaimes Wood said the organisation delivered emergency ambulance care for nearly 90 per cent of New Zealanders.
If you would like to donate to the Flash a Light appeal,, telephone 0800 ST JOHN or give online at stjohnappeal.org.nz or at any ASB branch.
St John staff and helpers will also be on the streets with collection buckets.