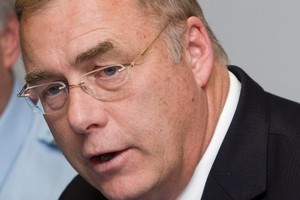 Almost 200 defence force jobs will be axed next week and another round of redundancies is set to follow later this year.
Staff earlier this year received a memo from defence force chief Lieutenant General Rhys Jones advising them some positions would be passed on to less expensive civilians.
Defence Minister Wayne Mapp today confirmed that 512 positions were up for review, of which 324 would be re-advertised as civilian jobs.
The affected staff will find out next Wednesday whether they are among those facing the axe.
Those not being made redundant would be able to re-apply for their jobs, with pay guaranteed at the same rate for two years.
"It frankly would have suited us to essentially just do straight transfers in most instances, but we're not able to do that under the Defence Act," Dr Mapp said.
A second round of review would take place by the end of the year, affecting about 500 more staff, followed by a third round affecting about 400 people.
All three stages of review would affect about 10 per cent of the 10,000-strong defence force.
The jobs likely to be affected were in areas like administration, human resources and logistics.
Dr Mapp said the process would allow the force to get "more work out of fewer people".
"One of the advantages of civilianisation is that you actually need fewer people to do the work, simply because they're able to stay in the jobs for longer periods of time and you don't have to take people out to do all sorts of military tasks."
The people being made redundant tended to be towards the ends of their careers, Dr Mapp said.
"Transition invariably creates anxiety and we owe it to our people in the defence force to minimise that process and to provide a clear way forward, as quickly as we can within the law, so that when he have completed the process everyone has a greater level of assurance as to where their future lies," he said.
The civilianisation process would account for about 10 per cent of the $400 million savings the defence force is looking to make in its budget.
Lt Gen Jones said there had been a dip in morale in the force over the past six months, particularly in the areas most likely to be affected.
"We are very conscious of the morale of the people in here, and yes there's been a bit of a slump in morale with the uncertainty that's going on, because we haven't been able to provide certainty even of bad news," he said.
Lt Gen Jones said it was an "unpleasant thing to do" so the process had to be done with as much respect as possible.
"We know that we've got to be very conscious of providing that support, doing the right things, supporting the people as we do the unpleasantness of leaving people out.
"But we're also focussing on the positives for the Defence Force."
- NZPA