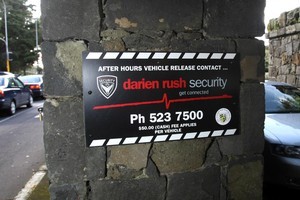 The Auckland Council is hiding a report about the risks in spending $180,000 with a security company hired to help patrol the Rugby World Cup.
A source said the report considered the financial risk of doing business with Darien Rush Security, which is being pursued by a liquidator over a disputed $2.5 million purchase of another security firm.
Council communications manager Glyn Walters said the risk report and a separate due diligence report on the security company were commercially sensitive - which means ratepayers cannot see them.
Mr Walters said the council was satisfied that any risk to ratepayers was "mitigated", but refused to expand.
Darien Rush Security has been hired primarily for crowd control during the World Cup.
It will also be responsible for getting people to and from train stations and around the stadiums smoothly, screening possible trouble-makers and showing a friendly face to visitors.
A report by liquidator Indepth Forensic said Mr Rush had provided limited information about a dispute over the purchase by his company of Strategic Security, which has $2 million of debts.
They include $757,000 owed to one of the World Cup's main sponsors, ANZ Bank, $660,000 to Inland Revenue and $615,000 to four other creditors.
Darien Rush Security reportedly "completed the acquisition of Strategic Security" for $2.5 million in April last year and then decided not to pay, claiming misrepresentation.
Strategic Security was placed in liquidation last September.
The security company said it had bought the business assets of Strategic Security, not the company, therefore had no liability for the debts.
Said Mr Walters: "Any financial issue between Darien Rush Security and Strategic Security does not involve Auckland Council."
Darien Rush Security's issues with Strategic Security bear similarities to the purchase of another business, Magnum Security, in 2008.
On that occasion, Darien Rush Security agreed to pay $150,000 for Magnum Security, made an initial
payment of $12,500 and then refused to pay the rest, claiming misrepresentation.
Yesterday, Magnum Security owner Bill Frost said part of the sale agreement was that Darien Rush Security would be responsible for the company's debts.
He said after Mr Rush disputed the sale and left him carrying the debt, he was prosecuted by IRD and sentenced to six months' home detention.

Darien Rush Security yesterday denied any wrongdoing in relation to the allegations by Mr Frost.
Alistair McGinn, a director of Strategic Security, suffered financial hardship after the sale turned sour.
Mr McGinn, who formed Strategic Security in 2005 and gained several big clients, including Eden Park, Vector Arena, Britomart and Ports of Auckland, is now unemployed and living in Northland.