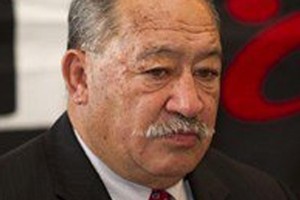 A day after being own-goaled by his Maori Party leader, Te Tai Tokerau byelection candidate Solomon Tipene made the best of a bad situation at a forum deep in Hone Harawira country last night.
Maori Party co-leader Tariana Turia apologised yesterday and admitted she "stuffed up" in comments she made about Mr Tipene, her party's candidate in the Te Tai Tokerau byelection.
Polling puts him a distant third to Mana's Mr Harawira and Labour's Kelvin Davis, who are separated by a single percentage point.
The previous day Mrs Turia cast doubt on Mr Tipene's ability and understanding of politics, saying, "I think that he has shown that he doesn't understand politics clearly - I think it would be fair to say that has been an issue for him."
Mr Tipene refused to speak to reporters immediately before and after the public meeting in Kaitaia last night.
It was a pity he decided not to speak, because his performance during the meeting was possibly his most assured of the campaign.
He joked with the audience about whom the Maori Party could work with - National, Labour, Mana but not the "Bash, arohamai [sorry], Brash party". He showed grace when Mr Harawira told him he wouldn't win on Saturday by smiling and giving him a man-hug and he won friends from Mana T-shirt-wearing supporters by talking about how the Treaty could be given substance at local council level.
He still rated himself a chance.
"You hear it from me tonight, I am still in the race till Saturday with the full support of the party behind me."
But whereas Mr Tipene was composed, exasperation crept into Mr Davis' voice at times, especially when a question on whether Labour could work with the Mana Party after the election assumed a Mana win was a certainty.
There was no mistaking that this was a Harawira stronghold. While people for the most part listened politely, their loudest "kia oras" in support of candidates' views were reserved for Mr Harawira.
But while he wrote off Mr Tipene's chances, Mr Harawira was happy to point out some maths for the crowd.
"It's really quite simple. A vote for Kelvin will only get you Kelvin. A vote for Hone will get you Hone and Kelvin."
Mrs Turia also suggested that opponent and former colleague Mr Harawira could win - a cardinal campaigning sin to admit even if you believe it.
"I suppose if he has done the work on the ground, it should be Hone," she said in the TV3 interview. "It'll be interesting to see whether he comes through."
The TV3 report on Monday interpreted those comments as Mrs Turia "throwing in the towel" and she was criticised by byelection commentators on Maori Television including former Alliance Cabinet minister Sandra Lee.
Mrs Turia issued a statement on Monday night attacking TV3 and the questioning the "honesty and integrity" of the media but yesterday changed tack.
"I made a mistake," her statement said. "I made some comments which have been misinterpreted.
"I am the first to say I stuffed up and I am extremely distressed by the impact my mistake has had on an excellent candidate, Solomon Tipene."