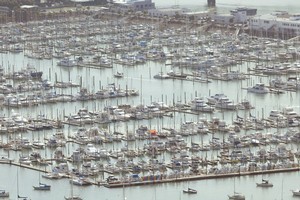 Downtown Auckland marinas are being inundated with bookings for the Rugby World Cup period.
The Viaduct Harbour Marina is booked to 80 per cent capacity for September-October, when bookings for the 150 spaces would normally sit at around 40 per cent.
"The Viaduct Harbour is always fully booked during the summer so it's an early influx of boats," said manager John White. "It's like summer starting early."
The summer period is normally November until May, when boats take refuge in New Zealand from the hurricane season. Sailboats, motorboats and superyachts from across the globe would begin their journeys shortly, from Australia, England and various "tax havens", said Luke Wigglesworth, Viaduct superyacht manager.
All would arrive in Auckland by September 23.
"We've got some good bookings, we have got some beautiful boats coming down," Mr Wigglesworth said. The boats acted as "expensive caravans".
Many were fully stocked with food and beverages, serviced by a crew and berthed within a 15-minute walk of Party Central, public transport and countless bars and restaurants.
Although headed here for the festivities, Mr Wigglesworth said many boating customers were "struggling to get tickets".
Once the marina was full, he expected to see boats anchor in the Waitemata Harbour, or wherever they could. There is no price change to marina bookings during this time.
Westhaven Marina will also operate at close to full, expecting 90 to 95 per cent capacity for its 1400 berths during the same time.
However, none of the bookings were specific to the Rugby World Cup, said Waterfront Auckland spokesman Luke Henshall.
Across town, entrepreneurial minds thought of turning their permanent marina bookings into floating accommodation.
Mark Schmack, Orakei Marina general manger, said one company asked to use its berth as accommodation, but was refused. The marina allows only two-day stays on boats.
At Gulf Harbour Marina, a few boats had already docked, said the general manager.
"We have got a couple of boats that have already booked in, and we have already got some boats that are here - they've chosen to stay down here until September where they would normally head up to the islands."
He expected boats would arrive during the season, as the marina normally dealt with the overflow of boats trying to book into more central marinas.