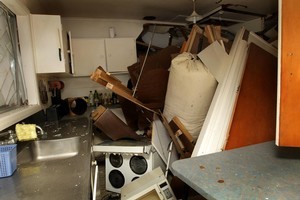 The death of a teenager in an Ohope landslide on Saturday has sparked fears among worried neighbours that others could die if their homes remain exposed to slips.
West End Rd homeowners who called an emergency meeting yesterday morning are now seeking answers from Whakatane District Council over what measures they can take to safeguard their homes.
They say about 60 homes in the beachside esplanade are threatened by a steep, pohutukawa clad escarpment looming high above their properties, three of which have been red-stickered by the council due to slips in Saturday's deluge.
Hugh Biddle, 17, died in a back room in one of the houses as a massive landslip came crashing down on the section and his foster father, Rob Shaw, was unable to smash his way through a door to save him.
Mourners farewelled Mr Biddle at Te Rewarewa Marae in Whakatane yesterday. Flowers were left beneath Mr Shaw's letterbox in Ohope as contractors cleared the mountain of mud which had piled up behind the house.
Further down at another red-stickered property, Sandy Revington was "heartbroken" to find her family's shared holiday home buckled and bent forward under the weight of a large landslip that slammed through the home's washhouse and filled the kitchen with earth, debris and broken branches.
The front of the house, shunted on to a steep lean, was stabilised with poles and retainers that had been thrust into the front lawn.
"It's a relief that no one was here, as there's people staying in the house quite often. We send our condolences out to Hugh Biddle's family."
Jack Hourigan, who was at the meeting, said residents were "very concerned" that another tragedy could strike.
"They really don't know when the next one's going to come, or who's going to get it.
"There have been about 10 or 12 slips along here, but nothing to the extent of what happened on Saturday."
Residents were anxious to find out what the council was doing about the problem - and what they could do themselves.
"There have been a lot of things happening, and it's getting to that stage where we have to go and ask, how do we protect ourselves?
"It's like having a 20-tonne bulldozer coming down and pushing earth off the banks. It's not a pleasant thought and quite a few of us are in danger of something like that happening."
Council chief executive Diane Turner said much of the escarpment was privately owned, but the council could facilitate work to strengthen it.
A stormwater reticulation system installed by the council had reduced the amount of water flowing down the escarpment and without it Ms Turner believed there would have been much more damage in Saturday's storm.
Elsewhere in Whakatane, two homes in Muriwai Drive were served with orange stickers, meaning their owners can live there but under short-period entry and are required to self-evacuate if there is heavy rain.
Two other homes in the street already have orange stickers from a large slip that came down in August last year.
"With the climate, the current weather conditions and people living there on large cliffs inherently made of unstable material, there will always be a risk," Ms Turner said. The council was examining the problem through a catchment study of Whakatane and Ohope, due to be completed in August.
"We're unsure what recommendations are likely to come out of it, but we'll have to work with the community to find out what the priorities are and what needs to be funded."