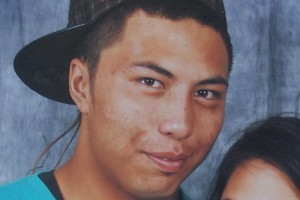 A youth killed in a landslide near Whakatane on Saturday was looking forward to becoming father to a daughter in September.
Hugh Biddle, 17, was buried alive when the landslide buried part of his foster father's Ohope Beach house during torrential rain shortly before noon.
His foster father, former school principal Rob Shaw, escaped from the house when the slip crashed down, but the teenager did not make it to safety.
Mr Shaw grabbed an axe and desperately tried to smash his way through a door to save Hugh, then emergency services, urban search and rescue staff and engineers with earth-moving equipment spent most of Saturday trying to reach him.
They battled heavy rain and treacherous conditions, as the cliffs above them were unstable.
After a day-long operation, Hugh's body was recovered by firefighters.
Yesterday his girlfriend of three years Cherize Kutia told The Rotorua Daily Post about the couple's dreams, and about how she will remember Hugh.
"He was funny, he was humble, he was respectful, and he was really excited about being a dad," she said.
"He was always doing things for my family and his, and never expected anything in return. He really loved Rob, his foster dad who he called koro."
The night before his death, Hugh had spent three hours painstakingly drawing a banner for the first birthday of Cherize's niece, a birthday held on Saturday.
Ms Kutia said Hugh never showed up for the party.
"He was always late so I put a plate of food away for him thinking I would probably see him after his rugby game on Saturday afternoon."
It was her mother, Anne-Marie, who eventually broke the news.
Ms Kutia spoke of Hugh's plans to buy their daughter a cot and a pushchair.
"He even talked about selling his beloved white Mitsubishi Evo 5 car and buying more of a family wagon -- it would have had to be tinted and lowered though," she said.
Mr Shaw, the former principal of Taneatua school, is well-known within the community for coaching young rugby players, including Kiwis captain Benji Marshall.
It was the second time he had suffered tragedy. His stepson Greg Boynton-Shaw, 31, died in 2004 with his friend after surfing waves whipped up by a cyclone at Omaio Beach on the East Cape. Their bodies were found three weeks later.
Whakatane suffered heavy flooding during the rain on Saturday and a welfare centre was opened at Ohope Christian Centre for people evacuated from their homes.
- NZPA