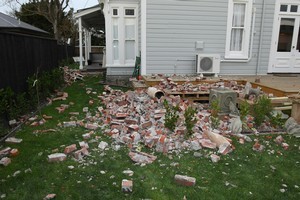 Earthquake Recovery Minister Gerry Brownlee has indicated he knows when Christchurch residents may be told their homes are damaged beyond repair - but he won't be drawn on a timeline.
Hundreds of people have been working over the weekend on the city's much-awaited land reports, as residents wait for news on whether the land beneath their homes is condemned.
Many residents, particularly in the east of the city, have been living in limbo since the February 22, not knowing whether their homes can remain occupied.
Mr Brownlee is refusing to respond to scuttlebutt there could be some kind of an announcement on Wednesday - following the Prime Minister's return from Australia.
He told Newstalk ZB authorities could have done without last Monday's quakes, which again triggered liquefaction bringing silt back to the surface.
"But it hasn't set us back too much and in fact we've had people working right through the weekend to see if we can pull things together a little more quickly," he said.
Mr Brownlee would not be drawn on a timeframe for the release of information for residents, but said he had a "sense" of when it would be.
"I'm not giving that sense to anyone, because every time I suggest a possible timeline people cling to it desperately," he told Radio New Zealand.
"It doesn't help them if that deadline is not met."
Mr Brownlee acknowledged it was important people had this information so they could move on with their lives, but said it was also important mistakes are not made.
"This is very serious. All of people's equity is in their homes - we cannot make a mistake," he said.
"It has never been faced in New Zealand before. It is, from an insurance point of view, one of the biggest disasters in the world, and we just need to make sure there is no short cut taken that ends up short changing people."
It has been reported that up to 12,000 homes across the city will be demolished as a result of the earthquakes which have continued to hit the region over the past nine months.
"That figure was put to me, and I said it could be in the realms of that," Mr Brownlee said.
"Those assessments are ongoing. It will be a very large number, there's no question of that."
"I think it is not unreasonable to think that across the greater Christchurch area that could be the number, but that does not mean that the land beneath those house is condemned."