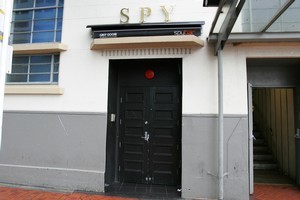 An Auckland nightclubber is disgusted a popular bar told her she would have to pay for water.
Megan Wright, 22, ordered two drinks and a glass of water at the Viaduct's Spy bar and was told she could not have tap water, but would have to pay $5 for a bottle of Waiwera Artesian Water.
Ms Wright said she was not surprised young people had a bad reputation for binge drinking when they were told they had to pay for water.
"Surely bar managers should be encouraged to happily serve water to a patron who is clearly wishing to dilute the effects of alcohol on a night out."
Duty manager Andrew Donald said that because Spy generated income through the bar, "we do charge for water".
"If you were to go to a cafe or somewhere else, you wouldn't go and use the toilet or something and expect a free glass of water.
"If you're going somewhere to use those services, you generally purchase something.
So that's kind of the principle we try and explain to people."
Mr Donald said if someone really needed water, staff would give them a glass, but "when you get people who come up to the bar and go, 'Hi, I just need a water', obviously we [charge for] that water".
But industry trainer Teresa Whimp said that was not good enough.
Ms Whimp, who teaches the Licence Controller Qualification at the Treehouse, a training centre for the hospitality industry, said a key aspect of holding a liquor licence was the principle of host responsibility.
"You should never refuse people if they come in for a glass of water."
It's "a big no-no having people pay for water. It goes against being a responsible host."
Hospitality Association chief executive Bruce Robertson said that although it was not a legal requirement for bars to supply water free, it was good practice to do so.
Other Auckland bars and nightclubs the Herald contacted expressed surprise at Spy's refusal to give tap water.
They said they sold bottled water, but would give a glass of tap water if asked.
The Viaduct's Soul Bar and K Rd's Dogs Bollix, Scorpio and Studio all said they provided free glasses of tap water out of a sense of responsibility as a liquor licence holder.
Jeremiah Hodge, duty manager at Dogs Bollix, said: "It's our responsibility to provide non-alcoholic beverages for designated drivers and glasses of water just to make sure everyone's still hydrated."
Ms Wright said the issue needed to be addressed before visitors arrived for the Rugby WorldCup.
"Pure New Zealand will certainly have its reputation sullied when visitors return home saying that water was not available to drink unless purchased."
- additional reporting Michael Dickison