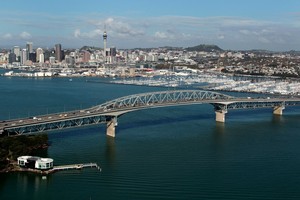 Stationary buses will form a 2.3km protective wall along the Northern Motorway in December when thousands of cyclists make their first approved mass crossing of the Auckland Harbour Bridge.
The phalanx of 160 buses from the Metrolink and North Star fleets of NZ Bus will be lined up from the bridge to the Northern Busway, over which the cyclists will also be given free rein for what will be known as the TelstraClear Clip-on Challenge.
Without such a barrier, there would be just a white line separating cyclists - who will descend in waves of 100 at a time from the bridge's southbound clip-on lanes - from opposing motorway traffic.
Up to 9000 pedallers are expected to take part in either of two rides starting on the Auckland side of the bridge, a 110km mission beginning at 6am and ending in Kumeu, and then a cruisier 15km excursion up and down the busway from about 9am.
Children aged 5 or over will get to ride bikes or tricycles with their families along sections of the busway.
Unlike about 2000 people who cycled or walked across the bridge illegally two years ago, calling for a shared pathway to be built on it, those registered for the new event will have the Transport Agency's blessing.
But organiser Callum McNair said that if the cyclists wanted to be allowed back for future annual rides, they would have to respect rules, including no racing on the bridge.
The regional director of the Transport Agency, Stephen Town, said the agency hoped a successful event could become an exciting regular addition to the city's calendar, like the Auckland Marathon, which includes the bridge.
Auckland Mayor Len Brown said cycling had an important contribution to make towards developing the world's most liveable city.
December's event would help by creating "a buzz" and excitement about cycling, and would follow a study he had commissioned into the feasibility of a foot and bike path across the bridge.
Participants in the 110km cycle ride will pay $110 for registrations, which open today.
The 15km bridge and busway jaunt will cost $65 and entry fees for the shorter busway rides, to be based around a bike festival at Smales Farm, will be $15 for children and $25 for adults.
ON THE WEB
telstraclearchallenge.co.nz