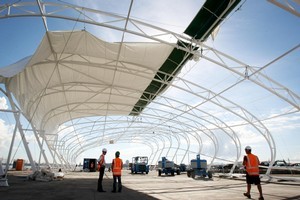 The Cloud being built on the Auckland waterfront for the Rugby World Cup could be moved to venue-ravaged Christchurch after the tournament.
Christchurch Mayor Bob Parker likes the idea of the prefabricated structure on Queens Wharf being used as an indoor venue in his quake-damaged city.
His enthusiasm follows the loss of 151 jobs on Friday at the Christchurch Town Hall and Christchurch Convention Centre because the facilities will be closed at least the end of 2013.
Mr Parker said Christchurch was short of covered public spaces and the $9.8 million Government-funded Cloud could be put up in Hagley Park.
He said it was an inspired idea of Waterfront Auckland chairman Bob Harvey to suggest relocating the Cloud.
"I'm taking the idea very seriously. It could be a solution for some of the issues we are faced with," he said.
Mr Harvey, however, is backing off letting go of the Cloud, now saying the temporary structure could stay on Queens Wharf for up to 15 years after the World Cup.
Mr Harvey said the Christchurch option was an act of generosity at the time of the second earthquake in February, "but the situation in Christchurch does not need an entertainment tent, they need much more serious addressing of housing and support".
He said Rugby World Cup Minister Murray McCully was of a mind to hand the Cloud to Auckland where it could be used for events such as triathlons and Round the Bays.
Asked about the possibility of moving the Cloud to Christchurch after the cup, a spokesman for Mr McCully said the Government committed the Cloud to the Auckland Council on Queens Wharf "for as long as they need it".
Neither the Auckland Council nor its subsidiary, Waterfront Auckland, has firm plans for the Cloud. Auckland Mayor Len Brown has made noises about using it as part of a plan to turn Shed 10 on Queens Wharf into a cruise ship terminal, and Mr Harvey has spoken of using it for events.
This would put the Cloud in competition with the council's $32 million Viaduct Events Centre being built at the end of Halsey St.
The cost to ratepayers of operating the Cloud after the cup would be about $1.4 million a year, based on an average 14 per cent operating cost for new buildings. It is a 178m prefabricated steel, glass and semi-transparent PVC-covered structure that can be put up in as little as six weeks.