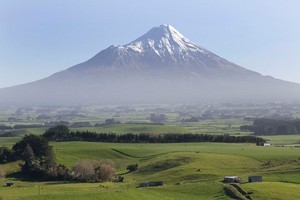 Experts say authorities should watch the fallout from Chile's volcano closely, as a similar local eruption is likely in our lifetime.
Puyehue-Cordon Caulle is part of the Pacific Ring of Fire, a vast horseshoe-shaped zone of intense seismic activity which includes Mts Ruapehu and Taranaki.
GNS Science volcanic geologist Graham Leonard said the disruption to South America's infrastructure, tourism and agriculture was an accurate portrayal of what New Zealand would face in the event of a large local eruption.
"Taupo and Tarawera produce quite big explosive eruptions every 1000 years or so, and Ruapehu, Tongariro and Taranaki have a chance of more than one explosive eruption in each of our lifetimes."
"[Those volcanoes] could give us millimetres to centimetres of ash to deal with, much like the San Carlos de Bariloche area in Argentina is coping with right now."
Argentina has suffered much more than flight cancellations.
Its cattle and sheep-grazing highlands are coated in 30cm of grey ash, and its ski resorts have also been affected.
Like Taupo, the magma under the Chilean volcano is highly explosive, which leads to greater volumes of ash, and greater potential fallout.
University of Auckland volcanologist Jan Lindsay said: "Eruptions of rhyolite magma are among the most explosive on earth because the magma's high silica content makes it hard for gases to escape passively.
"Instead they tend to blast the magma apart into billions of tiny fragments, generating huge, high ash columns."
This fine ash can make its way into every pore of a city - wastewater, air filters, crops, electricity supply and transport routes.
It also causes numerous health concerns, from respiratory problems to more bizarre incidents.
"One of the biggest sources of injury in cities that have had ash-fall are people falling off roofs ... while cleaning ash up," said Dr Leonard.
Experts say that New Zealand is comparatively well-prepared for a volcanic response, thanks to its world-leading research in volcanic and seismic fields.
But the gaps between large eruptions can lead to inertia in planning a response. Dr Leonard said: "There's a whole suite of little things to be aware of.
"With a little bit of preparedness and some recollection of the last event, people are more ready to deal with it. It's a good time to be thinking about it."
The ash plumes over New Zealand cleared enough for nearly all domestic, transtasman and international flights to resume on Friday.
But the ash clouds look likely to cause more travel chaos in the coming week.
Airlines cleared the passenger backlog, but the volcano continues to erupt, forming new clouds. Civil Aviation Authority's Peter Lechner said an incoming cloud could arrive over Fiordland. The ash is 4km to 5km above sea level, the same height as last week. He said there was no sign of an end to flight disruptions
THE BIG BANG
NZ volcanoes and eruption risk:
* 1000 years - Taupo, Tarawera
* Once in a lifetime - Ruapehu, Tongariro and Taranaki