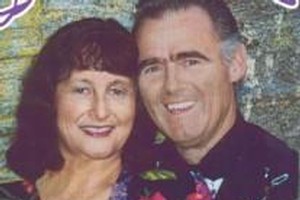 A country music singer was killed when his car was sliced in two by a double-decker truck in Taranaki yesterday.
Graeme Fitzsimons, who was in his 60s, was killed instantly when his Honda collided with a vehicle transporter on State Highway 3 south of Uruti.
The truck driver was uninjured but very shaken.
The company he worked for, Auto Movements (NZ) Ltd, declined to comment.
St John volunteer John Oxenham said emergency services were alerted about 8.30am. They arrived to find the Honda in two pieces, about 15m apart.
"Half of the car was jammed between the bank and the truck, the other half was further up the road. It was cut in two pieces.
"There was no way we could get to it because it was a mangled mess."
Graeme and his wife Janice were regulars on the New Zealand country music scene.
Noelene Franklin said the close-knit circuit was saddened by news of his death: "I always enjoyed their singing, they harmonised beautifully. I saw him only about three weeks ago. He was always a gentleman and always pleased to see you."
She said the couple lived in a mobile home they used to travel round the country.
"We met up with them at country music clubs and at functions. We celebrated Janice's 60th a couple of years ago. They are a very caring couple and nobody would have a bad thing to say about Graeme."
The couple have three sons, one daughter and grandchildren.
Heavy lifting equipment was brought in to move the truck and the road was closed for much of the morning.
It was the second fatal crash of the weekend after a 19-year-old Mt Wellington man was killed when a van and trailer collided in Auckland's Otara about 8.45pm on Friday.
Counties Manukau police inspector Chris de Wattignar said the van, with five people inside, crossed the centre line, and crashed into a parked truck trailer.
The driver sustained "very serious head injuries" and died at the scene. The passengers received minor injuries.
Alcohol was a factor, de Wattignar said.
Meanwhile, two people were taken to hospital, one in a serious condition, after a two-car smash in south Canterbury yesterday.
Emergency services responded to calls to attend the crash at Rakaia Bridge on State Highway 1, about 60km southwest of Christchurch, about 7.30am.