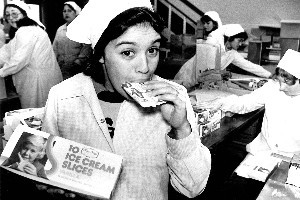 Exporters today are struggling against the headwind of a high kiwi dollar but, 30 years ago, an icecream maker faced another barrier in exporting to Hawaii.
When word came that Hawaii was hungry for 28,000 Tip Top icecream slices, it was Mary Graham from Otahuhu and her mates on the factory line who had to deliver.
In September 1979, that amounted to a $10,000 order for the manufacturer.
Newly-wed Graham, then 19, had been working at the General Foods factory - known today as the Tip Top factory - in Mt Wellington for just under a year.
A company executive sealed the deal after he went on a sailing trip to Hawaii and noticed there was no equivalent of the basic icecream slice on the market.
The New Zealand Herald turned up to document the event and Graham remembers photographer Roger Gilchrist peering down from the factory platform and picking her out of the assembly line.
Made to a special American recipe that was richer than the New Zealand version, the icecream slices were packed in special containers for American consumers.
It was quick work that required swift hand-eye co-ordination. "With that particular machine, the slices were wrapped and it was matter of us packing them," said Graham.
The workers would cycle around different machines every 20 minutes.
One of the most complex stations was the Trumpet machine. "It was a big circular thing. You would drop the cone in and it would fill, then it was wrapped and you picked them up and packed them. It was about co-ordination really."
Graham enjoyed the work. She lived nearby in Panama Rd and would walk to the factory with five or her co-workers. There was not much time for chatter on the line, with all attention needed to carry out the job.
The factory workers did get to eat a lot of their handiwork. "Vanilla icecream was the favourite," said Graham, who has moved on from the icecream industry. She has worked in retail, had children and for the past 10 years has worked for the Ministry of Maori Development.