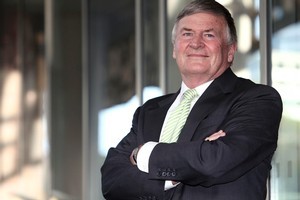 Former Supreme Court judge Bill Wilson says that if he had his time again, he wouldn't have made a disclosure about his relationship with QC Alan Galbraith who appeared before him.
He also says that he did not know about 2003 guidelines for judges on disclosure of conflicts of interest at the time of the relevant case, in 2007.
He says it was accepted practice in 2007 for judges to have friendships and business relationships with lawyers appearing before them.
Mr Wilson resigned from the bench in October last year after a complaint against him, originating in an informal disclosure he made as a Court of Appeal judge in 2007 about Mr Galbraith, a friend and business associate, to an opposing lawyer acting for the Saxmere company.
Mr Wilson spoke to the Herald on Sunday last October, but gave his first television interview on the matter this week to TVNZ7's Court Report.
Mr Wilson said: "I did not resign, let me make it absolutely clear, because of any impropriety on my part. There was none."
Responding to questions from presenter and lawyer Greg King as to why he did not follow the 2003 guidelines recommending judges disqualify themselves when a party's lawyer was a close friend or business associate, Mr Wilson said: "'I saw those subsequently."
He said the guidelines did not appear to be observed in practice.
"I was aware of numerous situations where there was a close friendship between judge and counsel appearing, and in some of the cases the friendship extended to the joint ownership of assets. That as I understood it was accepted practice in 2007."
Mr Wilson disputed the Supreme Court's view that the difference in their respective ownership levels in a horse stud meant Mr Wilson was indebted to Mr Galbraith.
"I did not owe Alan Galbraith a cent," he said. "I did not owe our jointly owned company a cent."
And to suggestions he should have disclosed more, he said he had offered to appear for questioning by the Supreme Court and Saxmere but the offer had not been taken up.
Asked if there was anything he would do differently, Mr Wilson said: "The only thing I would have done differently is I wouldn't have communicated informally to counsel for Saxmere right at the very start. I wouldn't have made any approach."
Mr Wilson has previously said a conflict of interest existed only if a person had an interest in the outcome of a case, and the horse stud he had co-owned with Mr Galbraith was not affected in any way.
Mr Wilson said the whole matter "was a particularly unpleasant time for me".
As a sitting judge, he could say nothing publicly to defend himself.
"In that situation I would have usually expected the Attorney-General or Solicitor-General to speak out. They didn't, and no one from the Government did."
He said 20 QCs had written to the Acting Attorney-General, Judith Collins, backing up his view against the Judicial Conduct Commissioner's referral of his case to a judicial conduct panel, but their letters had not even been acknowledged.
Mr Wilson said he was now doing arbitration work and helping Sir Robert Jones to manage the career of a young heavyweight boxer.