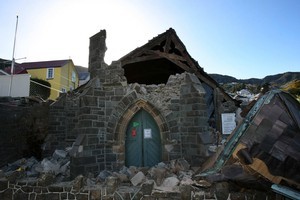 Christchurch appears to have pulled off an economic miracle by avoiding a big spike in unemployment even though most of its central city is still cordoned off after its devastating earthquakes.
Work and Income figures released to the Herald show that only 450 of the 54,000 people who received the employment support subsidy after the February 22 earthquake have gone on to the unemployment benefit so far.
Social Development and Employment Minister Paula Bennett said the Canterbury dole queue rose by fewer than 100 in the first two weeks after the subsidy ended at the end of last month, from 6212 to fewer than 6300.
She said the tally rose by 830 from February to the end of May, in a period when the dole queue in the rest of the country shrank by 8150 as students went back to their studies and economic activity began to lift.
The Canterbury dole tally would have fallen by about 1200 if the region had followed the national trend, so the net effect of the earthquake so far has been to throw a net 2000 extra people on to the benefit.
Jobs are still being lost. The company managing the Christchurch Town Hall and Convention Centre, Vbase, yesterday cut its staff by 151 fulltime-equivalents, from 218 before the February earthquake to 67, because the facilities will be closed until at least the end of 2013.
But the region's unemployment was well below the national average before the earthquakes. Almost incredibly, those on the dole still represent only 1.6 per cent of the region's working-age population compared with last month's national average of 2.2 per cent.
Canterbury Employers Chamber of Commerce chief executive Peter Townsend said he was nervous as the end date for the subsidy approached and surprised that the transition had been so smooth.
"There are still businesses in the CBD that are hurting, particularly in tourism and hospitality and location-specific businesses," he said.
"But I am absolutely gobsmacked at the resilience of the local business community. It's just stunning the way you see these businesses getting knocked down, picking themselves up and getting going."
Mr Townsend said the post-earthquake subsidy, which initially paid businesses $500 a week for every employee whose job was affected by the quake, pumped $200 million into the city.
"It was a lifesaver for literally thousands of small businesses. There were 15,000 businesses with 57,000 employees, representing 27 per cent of the total workforce of Christchurch, on that scheme at the peak."